Irish parish seeks origin of chalice donated by Bostonians in 1913
---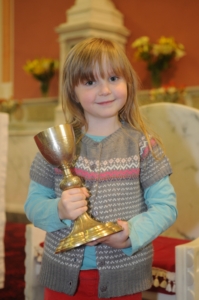 The Chalice in use in Castletown Kenneigh Church, Enniskeane, County Cork, Ireland, was donated by former parishioners living in Boston in 1913. It is being held here by one of the young parishioners from Castletown, Geraldine McCarthy, whose mother Margaret is the sacristan at the church. Pilot photo/courtesy Tom Hayes
CASTLETOWN KENNEIGH, Ireland -- It has been used at Mass everyday for almost 100 years, but its exact origin is lost to history.

Approaching the centennial anniversary of the donation of a chalice to St. Joseph's Church in Enniskeane, County Cork, Ireland by former parishioners living in Boston, the parish's pastor hopes to unravel the mystery of who those donors were.

The only hard clue: an inscription on the bottom of the chalice that reads, "For use in the Castletown Chapel. Presented by a few former parishioners. Boston, April 1913."

Father Tom Hayes, 52, pastor of three churches in the Enniskeane parish -- including St. Joseph's -- said he has an interest in history related to local churches. He said he has often inspected pews, stained glass, and other church objects to find out the names of donors since his ordination in 1985.

The chalice in question is unique because its arrival in the church seems to have bucked local custom.

"Our tradition here is that most of the priests get a chalice when they are ordained a priest, and they carry that chalice with them from church to church, which they use throughout their lives. Normally, they leave the chalice in the church where they die, but the church in Castletown Kenneigh, St. Joseph's Church, only has this one particular chalice," Father Hayes.