Priest-physician brings unique perspective to suicide debate
---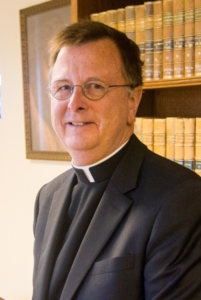 Provincial of the New England Province of Jesuits Father Myles N. Sheehan. Pilot photo/Christopher S. Pineo
WATERTOWN -- When Father Myles N. Sheehan says physicians do not need assisted suicide to provide appropriate end of life care, he is speaking from experience.

Father Sheehan is not only the provincial of the New England Province of Jesuits, but also a physician trained in internal medicine and geriatrics, a medical educator, and an expert in palliative care.

Speaking with The Pilot Aug. 13, he said he sees the proposal of legalized physician assisted suicide in Massachusetts as a failure to attend to the needs of the dying.

"I would like to see that people receive an approach that attends to their suffering in all its dimensions from the beginning of a serious illness," he said.

He said those dimensions include attention to spiritual needs as well as mental needs and physical needs.

"This is a place where like St. Ignatius said, 'Love needs to be shown in deeds not words.' The care and our whole way we approach people as they face the end of life is an issue that needs further attention. A distorted way to attend to it is what has come out of this assisted suicide (movement), but the underlying fears, concerns and discomfort about what the end of life might mean is real whether or not you agree or disagree," Father Sheehan said.