Obituary: Father Charles Sheehy, 94, ministered for 20 years in Braintree
---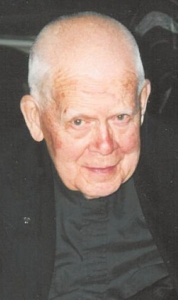 Father Charles I. Sheehy Courtesy photo
Father Charles I. Sheehy died Aug. 10, the 68th anniversary of his ordination, in Marshfield. He was 94 years old.
He was the son of the late Charles D. and Mary (Sullivan) Sheehy and the brother of the late Arthur R. Sheehy and his wife Patricia; and the late Eleanor L. Farrell and her husband, Robert.
Father Sheehy was born in Dorchester and raised in Braintree. He attended Sacred Heart High School in Weymouth and earned his undergraduate degree from Boston College. After graduating from Boston College, he entered St. John's Seminary and was ordained by Cardinal Richard Cushing on Aug. 10, 1944.
His first assignment following ordination was to St. Bridget Parish in Framingham as assistant pro tem. In November of that year he was assigned to St. Anne Church in Readville. In March 1945 he was assigned as assistant at St. Mary Star of the Sea Church in East Boston and in July 1946 was made assistant at Our Lady of Good Voyage Church in Gloucester. In 1951 Father Sheehy became a U.S. Army chaplain, serving troops during the Korean War.
Following his military service, he was named assistant at St. Paul Church in Cambridge in 1964, where he remained for three years before being named assistant at St. Mary Church in Waltham. In April 1970 he was named administrator of St. Christine Church in Marshfield, becoming pastor in July of that year. The St. Christine Parish history recalls that Father Sheehy's "gentle shepherding" avoided "much of the polarization experienced in other parishes" as the reforms of the Second Vatican Council were implemented.
Page 1 of 2