Blessed Teresa brought people close to God by loving them, says priest
---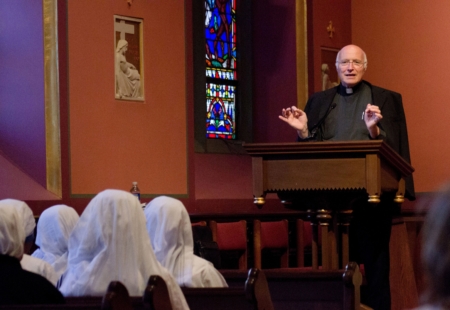 Msgr. Leo Maasburg, spiritual adviser and confessor to Blessed Teresa of Kolkata, speaks about her life at the Cathedral of the Holy Cross, Sept. 16. Pilot photo/Christopher S. Pineo
SOUTH END -- Blessed Teresa of Kolkata felt a calling to bring people to God by simply loving them, and her own longing to be close to God through Jesus Christ was like a thirst, said an Austrian priest who for many years was her spiritual adviser.

Msgr. Leo Maasburg, in a talk Sept. 16 at the Cathedral of the Holy Cross in Boston, described his experiences traveling and working day-to-day with Mother Teresa in her ministries.

After beginning a friendship with her in the 1970s, he accompanied her as spiritual adviser, translator and confessor on the travels between 1984 and 1991 where she came face-to-face with a Marxist dictator and his armed fighters in Nicaragua, cared for children in Soviet states, and ministered to the dying in Kolkata, India.

Later, in an interview with The Pilot, he said he took care in his 2011 book about Mother Teresa and in his talk to demonstrate the personal humanity of the woman sometimes called "the most powerful woman in the world."

"The talk was an attempt to depict Mother Teresa from a side which she was not so well known in the media, because the media -- maybe rightly -- focused on her social aspects, on the way she treated the poor, her engagement with the poor and what she did," he said.