From Cardinal Seán's blog
---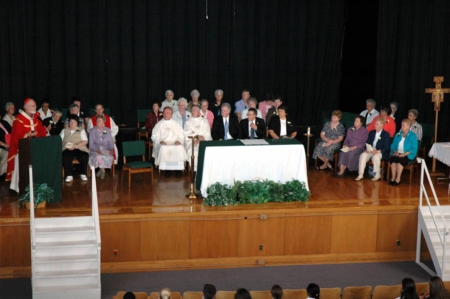 'On Friday (9/14), I celebrated the Mass at Archbishop Williams High School in Braintree to mark the 200th anniversary of the Sisters of Charity of Nazareth.' Pilot photo/CardinalSeansBlog.org
On Friday (9/14), I celebrated the Mass at Archbishop Williams High School in Braintree to mark the 200th anniversary of the Sisters of Charity of Nazareth. The sisters founded the school in 1949 and there have been over 160 sisters who have served at the school over the years, providing an invaluable contribution to the archdiocese. Many sisters who had been teachers, or were themselves graduates of the high school, were present for the Mass. Today, the school is flourishing and the people still feel a great debt of gratitude to the Sisters of Charity for initiating this marvelous ministry that continues so well at Archbishop Williams High School.

Talk by Msgr. Leo Maasburg

That afternoon we were very pleased to welcome Msgr. Leo Maasburg to the cathedral for a talk on the life of Blessed Mother Teresa. Msgr. Maasburg is the head of the Society for the Propagation of the Faith for the country of Austria. For many years, he worked very closely with Mother Teresa as her spiritual advisor and translator and he traveled with her to many countries in the world to assist her. He has written an inspiring book of his reflections on those experiences with Mother Teresa. He gave a wonderful talk because not only does he share many of the anecdotes of moments with Mother Teresa, but he also uses those experiences to explain the theology of Mother Teresa. We are very grateful to Alexis Walkenstein for having made arrangements for Msgr. Maasburg to come to Boston.