Dinner raises $1.2 million to support priests
---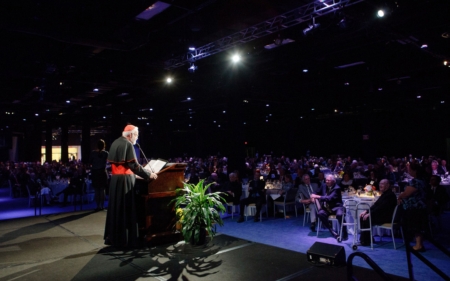 Cardinal Seán P. O'Malley delivers his remarks at the annual Celebration of the Priesthood dinner. "Some of the greatest people that I know have been Catholic priests," he said. "Our priests love their people with a shepherd's love," he said. Pilot photo/Gregory L. Tracy
BOSTON -- They came to pay tribute to the men whose faith has made a difference in their lives. They came to honor their priests.
From every corner of the archdiocese, over 1,300 people gathered at Boston's Seaport World Trade Center on Sept. 26 for the fourth annual Dinner in Celebration of the Priesthood.
Begun in 2009, the dinner supports the archdiocese's Clergy Funds. The funds provide for the healthcare and retirement needs of senior priests, healthcare costs of active priests, and the senior priest retirement residence, Regina Cleri.
As guests entered into the Trade Center's main hall, they were met with a display of historic vestments and liturgical vessels.
"Our chalices mean so much to us," Father Robert Reed, director of CatholicTV Network and this year's emcee said, holding his personal chalice, made from some of his grandparent's silver, up to the crowd.
"They are sacred reminders of our call," he said.
"We are, some of us, artists and athletes, musicians and canon lawyers," said Father Reed as childhood photos of some of the archdiocese's priests flashed on the hall's projection screens. "Every one of us is different, as you know, but all of us are gifted by the Holy Spirit to serve you.
The evening's speaking program included keynote speaker Don Rodman, founder of Rodman Ford in Foxborough. Remarks were also given by Cardinal Seán P. O'Malley; event co-chairs Neal Finnegan, board member of Catholic Charities, and Ann Carter, CEO of Rasky Baerlein Strategic Communications; as well as Clergy Funds Advisor Joe D'Arrigo.
"Tonight we salute and thank the men who enable us to live our Catholic faith," said Finnegan.
"I have been moved by how our priests have always shown a willingness of the heart," he said.
Finnegan spoke of how six years ago "our priests and their finances were drowning" with a clergy fund that was almost out of money and health care and housing costs for the clergy rising dramatically.
"We are proud to report that this year's dinner has raised $1.13 million for the clergy fund," he said, noting that the amount is an 11 percent increase over last year's dinner. The archdiocese later announced that additional contributions brought that figure to $1.2 million.
"We are now engaged for a brighter future and a stronger Church for our future," he said. "We are deeply grateful for your presence and your support."
Carter, who joined Finnegan on the stage, added "Tonight we stand united, as an archdiocese of men and women filled with the simplest and most powerful force: love. Love and appreciation for our priests -- our clergy."
"We have experienced many of the saddest and happiest moments in our lives with you by our sides," she said.
"You are there when we need you and now we stand proudly to be here for you -- to show our appreciation in deed and in donation," continued Carter.
"From Cardinal Seán to the retired priests at Regina Cleri to the most newly ordained, thank you for helping us lead lives of meaning as Catholics," she concluded.
In his remarks, D'Arrigo addressed the current situation of the clergy fund, as well as its future.
"Last year's fiscal results, although preliminary, will show a small surplus," he said, noting that this occurred "during one the most difficult economic times in recent history."
"We still have work to do," stressed D'Arrigo, adding that "for every 5 priests in active ministry, we have 4 retired priests."
Page 1 of 2