Dinner raises $1.2 million to support priests
---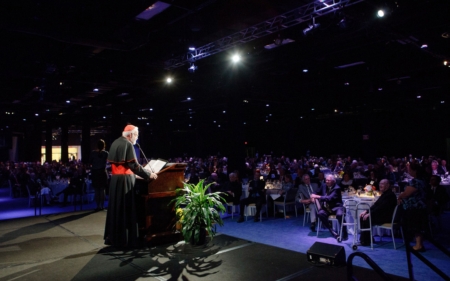 Cardinal Seán P. O'Malley delivers his remarks at the annual Celebration of the Priesthood dinner. "Some of the greatest people that I know have been Catholic priests," he said. "Our priests love their people with a shepherd's love," he said. Pilot photo/Gregory L. Tracy
BOSTON -- They came to pay tribute to the men whose faith has made a difference in their lives. They came to honor their priests.

From every corner of the archdiocese, over 1,300 people gathered at Boston's Seaport World Trade Center on Sept. 26 for the fourth annual Dinner in Celebration of the Priesthood.

Begun in 2009, the dinner supports the archdiocese's Clergy Funds. The funds provide for the healthcare and retirement needs of senior priests, healthcare costs of active priests, and the senior priest retirement residence, Regina Cleri.

As guests entered into the Trade Center's main hall, they were met with a display of historic vestments and liturgical vessels.

"Our chalices mean so much to us," Father Robert Reed, director of CatholicTV Network and this year's emcee said, holding his personal chalice, made from some of his grandparent's silver, up to the crowd.

"They are sacred reminders of our call," he said.

"We are, some of us, artists and athletes, musicians and canon lawyers," said Father Reed as childhood photos of some of the archdiocese's priests flashed on the hall's projection screens. "Every one of us is different, as you know, but all of us are gifted by the Holy Spirit to serve you.