Weigel speaks on 'evangelical Catholicism' at seminary sponsored lecture
---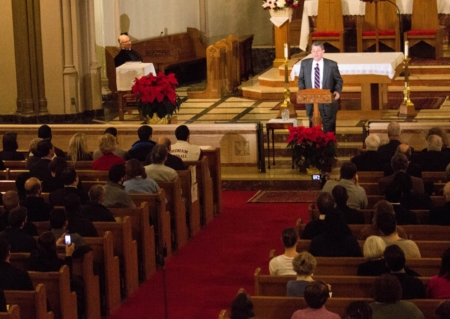 George Weigel delivers his talk "Vatican II and the Birth of Evangelical Catholicism" at St. Columbkille Church in Brighton Jan 14. Pilot photo/Christopher S. Pineo
BRIGHTON -- Catholic author and biographer of Pope John Paul II, George Weigel, presented the concept of what he called "evangelical Catholicism" in his Jan. 14 talk at St. Columbkille Church in Brighton.

Weigel, a distinguished senior fellow of Washington's Ethics and Public Policy Center, presented his talk "Vatican II and the Birth of Evangelical Catholicism," as the third presentation in St. John's Seminary's Forum for the Year of Faith series. Before and after his talk, Weigel signed copies of his latest book "Evangelical Catholicism: Deep Reform in the 21st-Century Church."

Msgr. James P. Moroney, the rector at St. John's Seminary, had read the book before the talk and said the insight Weigel presented made him a welcome addition to the lecture series.

"What impressed me the most about both Dr. Weigel's book and his presentation was how clearly he described the broad horizon of what characterizes a Church that successfully evangelizes at the beginning of the 20th century. The vision was articulated with a clarity that could be understood by the average parishioner and would, at the same time, challenge the pastor of that parish," Msgr. Moroney said.

In his talk, Weigel gave a unique perspective on Catholic identity after Vatican II, as he called the mandate to mission evangelical Catholicism, the successor to "Counter-Reformation Catholicism."