Campaign for Catholic Schools celebrates five years
---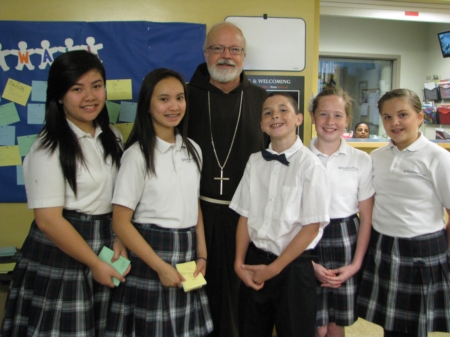 Cardinal Seán P. O'Malley poses with students of Pope John Paul II Academy during the June 5 celebration to mark the 5th anniversary of the Campaign for Catholic Schools. Pilot photo/courtesy Boston Catholic Development Services
DORCHESTER -- A group organized in an effort to rebuild Catholic education in Boston celebrated a milestone last week.

The Campaign for Catholic Schools and Cardinal Seán P. O'Malley gathered with supporters, June 5, at the Neponset Campus of Pope John Paul II Academy in Dorchester to celebrate five years developing and implementing a reform model aimed at rehabilitating urban Catholic elementary schools.

Guests included the campaign's philanthropic pioneer and Hill Holliday founder Jack Connors, an early supporter of the campaign and chief executive at Shields Health Care Thomas S. Shields, Yawkey Foundations chairman John L. Harrington, and state secretary of Education Matt Malone.

The principal of the campus said the school was proud to host the event.

"It really was an honor and a privilege to welcome those men and women who have so generously financially given to the Campaign for Catholic Schools," Kate Brandley said.

Speakers at the event said the Campaign for Catholic Schools raised over $75 million -- including $7.5 million from a recent anonymous donation -- since it began and created three academies in the archdiocese: Pope John Paul II Academy, Trinity Catholic Academy and South Boston Catholic Academy.

The foundation started in December 2007, but the campaign celebrated the anniversary this month to make sure Connors and the cardinal could attend.