BC-Catholic Extension event looks at how to respond to the call of Pope Francis
---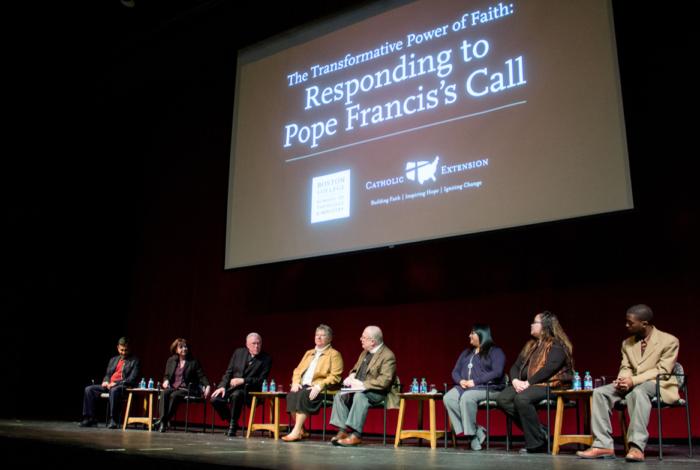 Catholic Extension honorees reflect on Pope Francis' call to ministry to the poor and disenfranchised at panel discussion at Boston College's Robsham Theater March 31. Pilot photo/Christopher S. Pineo
CHESTNUT HILL -- A Boston College panel discussion brought together a group of Catholics who minister to the periphery of society March 31 to reflect on how their ministries respond to the call of Pope Francis for Catholics to be advocates for the poor and agents of change.
The Boston College School of Theology and Ministry (STM) and Catholic Extension, a national nonprofit that strategically invests in poor mission dioceses and Catholic dioceses throughout the U. S. that cannot financially sustain themselves, hosted "The Transformative Power of Faith: Responding to Pope Francis's Call" on March 31 to spotlight Catholics who answer the call by Pope Francis for Catholics to be advocates for the poor and agents of change.
The panelists were past recipients or finalists for Catholic Extension's Lumen Christi Award, which recognizes those in mission dioceses who have devoted their lives to serving the poor and to fostering Catholic communities that build faith, inspire hope and ignite change.
Dean of STM and Jesuit priest Father Mark Massa served as the moderator for the panel discussion.
"These folks from mission dioceses -- quote-unquote mission dioceses -- are really from very vibrant communities in the Catholic faith that are going by leaps and bounds," Father Massa told The Pilot.
Panelists, who work in some of the nation's poorest communities, included a Felician Sister whose order jump-started an ecumenical movement in South Carolina; a couple from California whose ministries keep the Church present for young people and migrant workers in their state; and a priest who serves the Lakota people on a Native American reservation in South Dakota.
Felician Sister Mary Susanne Dziedzic, CSSF, serves with a Felician Sisters community in Kingstree, South Carolina. The sisters began their outreach with an after-school tutoring program for neighborhood children, continued with a food pantry, and a home repair program, which ultimately brought churches together as they rallied volunteers from 11 different local denominations.
"We came to a place that, at one time, in our county court manuscripts it said Catholics are not allowed to purchase property in Williamsburg County, so that was kind of shocking to us. But to make the story short, what happened was an intervention of the Holy Spirit as we began to pay attention to what the needs were, and the outreach was developed. It was precisely our brothers and sisters from these other churches who came forth, knocked on the door and said, 'How can we help you.' And today it has become a very strong ecumenical presence, and what the Catholic Church has really done to transform the community is to offer Catholic leadership," Sister Mary Susanne said.
Jose Lopez and his wife Digna R. Lopez, both immigrants from Mexico, serve respectively as director of Migrant Ministry and director of Hispanic Ministry in the Diocese of Stockton, Calif. They train and support more than 15,000 people annually, including young people as they provide alternatives to lives of drugs and violence through involvement with the Church.
"Some of the challenges that we face in the Stockton Diocese is that it's a poor community; however, especially among the Latino community, it tends to be a community of faith. So, that really helped us in developing and creating leaders and people that can help others and also bring the good news of the Gospel, and reach out, to the different areas in the diocese," Digna Lopez said.
Jesuit Father John Hatcher, president of St. Francis Mission in St. Francis, South Dakota, has served the 20,000 Lakota people on the Rosebud Reservation as head of the St. Francis Mission, a Jesuit ministry, for 10 years.
Page 1 of 2