How an ex-prostitute's horrific suffering moved Pope Francis
---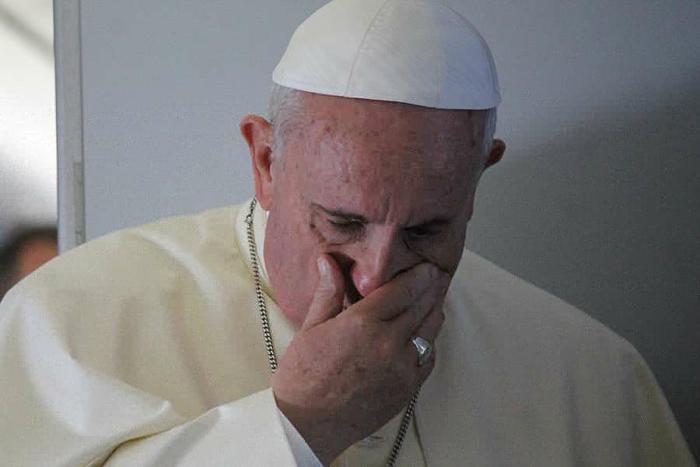 Pope Francis prays with journalists on the papal flight en route to South Korea August 14 2014. Photo credit: Alan Holdren CNA 2 CNA 8 14 142
Vatican City, Nov 20, 2016 CNA/EWTN News.- Pope Francis still remembers his meeting with a former prostitute who had suffered much.

In a new interview, the Pope recalled the time he met with a young pregnant woman from Africa who was "beautiful, young (and) exploited."

In telling her story, the woman said she was forced to work until she was nine months pregnant. She ended up giving birth "in the winter on the street. Alone. By myself," Francis recalled her saying.

Her newborn daughter, exposed to the cold, died.

This added to the woman's suffering.

"They made her work until that day, because if she didn't bring the exploiters much, she was beaten, even tortured," the Pope said. He recalled that another woman he met in the community had her ear cut off because she didn't bring enough money back for her traffickers.

Pope Francis said that when he heard these stories, he didn't just think of the exploiters, but also the clients. "Do they not know that with that money, to take off for sexual satisfaction, they helped the exploiters?" he asked.

His meeting with the ex-prostitutes happened in an Aug. 12 visit to women rescued from forced prostitution and under the care of the Pope John XXIII Community in Rome.