From Cardinal Seán's blog
---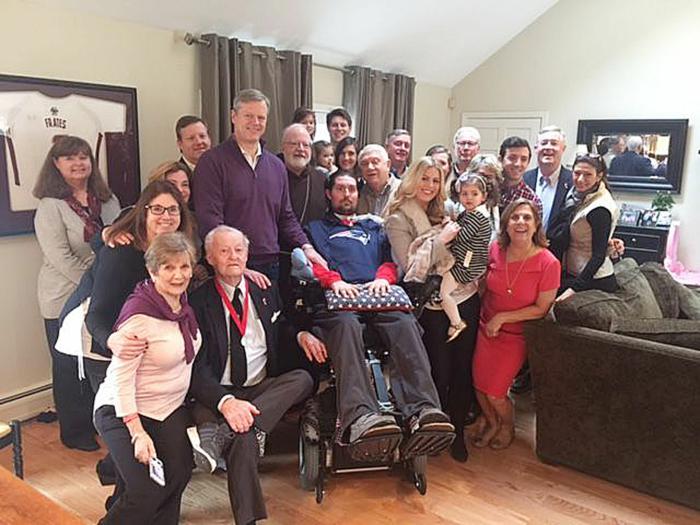 'Sunday (1/22), I went to the Frates home in Beverly to visit Pete Frates and to bestow the Cheverus Award medal to his grandfather Jack Frates...' Pilot photo/CardinalSeansBlog.org
Sunday (1/22), I went to the Frates home in Beverly to visit Pete Frates and to bestow the Cheverus Award medal to his grandfather Jack Frates, a dedicated life-long parishioner at St. John the Evangelist Parish who was unable to be at our celebration at the cathedral last December.

Pete Frates is well known throughout the world as the inspiration for the ice bucket challenge. Pete was the captain of the baseball team at Boston College and went on to play professional baseball in Europe; but at age 27 he was diagnosed with ALS, also known as Lou Gehrig's Disease. A year later, he married Julie and they welcomed their daughter Lucy to their family, but at this stage of his life he is now completely paralyzed.

It was so inspiring to see how Pete's family and friends gather around to care of him. Governor Baker, a close friend of Pete and the family, very kindly joined us for the visit and in congratulating Jack on his Cheverus Award.

While I was there, I administered the anointing of the sick to him. The Gospel reading that I chose was the story of the paralytic being taken to Jesus. It was a very moving experience.