From Cardinal Seán's blog
---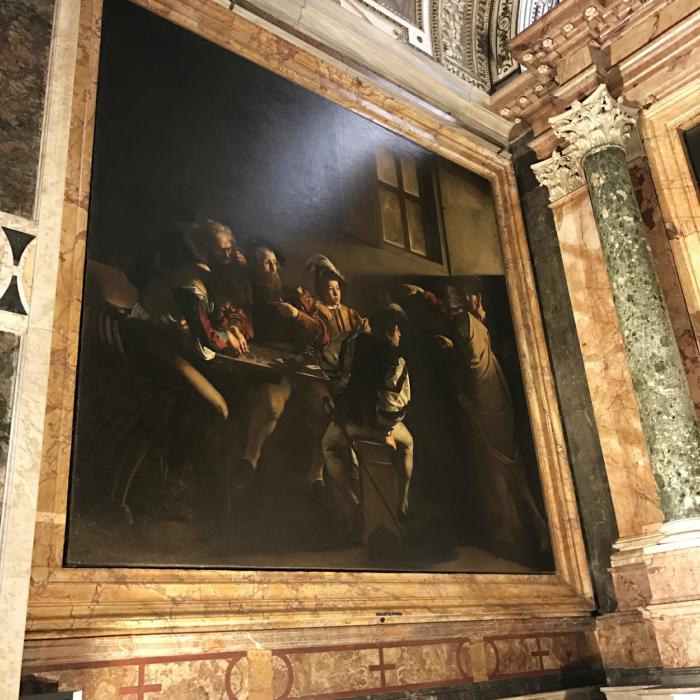 'The meetings of the commission were held at the Paolo VI Residence in Rome, and right next-door is the Church of St. Luigi di Francia... It is noted particularly for the three paintings by Caravaggio that hang there, all of which deal with the life of St. Matthew, including the 'The Calling of St. Matthew,' which so inspired Pope Francis.' Pilot photo/CardinalSeansBlog.org
As you may remember, last week I was in Rome for a conference on child protection in Catholic education at the Gregorian University, which was held on Thursday (3/23).

Following the conference, I remained in Rome for our plenary assembly of the Pontifical Commission for the Protection of Minors, which ran from Friday until Sunday.

Among the many issues we discussed was, of course, the resignation of commission member Marie Collins, as this was our first plenary gathering since she decided to step down.

We are so grateful that Marie is willing to continue to assist us in our ongoing education efforts and the commission discussed a number of ways to ensure that the experiences of clergy abuse victims continue to inform and shape our work.

We also discussed the ongoing issue of the Holy See providing prompt and appropriate responses to correspondence from clergy abuse victims. While we understand that there may be some challenges to accomplishing this, nevertheless we remain committed to solving this problem. The commission is considering several ideas that we will submit to the Holy Father for his approval.

Church of St. Louis

The meetings of the commission were held at the Paolo VI Residence in Rome, and right next-door is the Church of St. Luigi di Francia (perhaps better known by most as St. Louis de France), which I had a chance to visit during our midday break on Saturday. The church is just stunning.