Wilmington teens dedicate confirmation project to fallen MIT officer Collier
---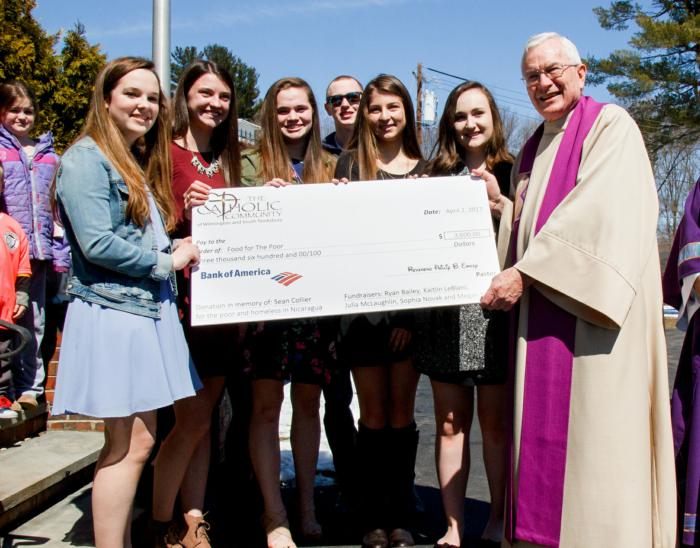 St. Thomas of Villanova, Wilmington confirmation students Kaitlin LeBlanc, Julia McLaughlin, Ryan Bailey, Sophia Novak and Megan Santry present their donation check to Father Peter Lyons of Food for the Poor following Mass April 2. Pilot photo/Mark Labbe
WILMINGTON -- Through the efforts of five teen parishioners of St. Thomas of Villanova Parish in Wilmington, the charitable spirit of Sean Collier, the MIT officer who was killed in the line of duty in the days following the 2013 Boston Marathon bombing, will not be forgotten.

For the past two years Wilmington High School sophomores Ryan Bailey, Kaitlin LeBlanc, Julia McLaughlin, Sophia Novak and Megan Santry, held car washes, lemonade stands, poinsettia sales, and other fundraising events to raise $3,600 for the charitable organization Food for the Poor as part of their confirmation project.

The funds they raised were enough to build a mother and her five children in Nicaragua a new house through the organization's housing program, and while the girls' efforts went above and beyond what they were required to do, they decided to take their project one step further by dedicating the money in the memory of Sean Collier, a 2004 alumnus of Wilmington High School.

In the presence of Collier's mother and grandparents, the teens presented a check to Father Peter Lyons, a representative from Food for the Poor, following a noon Mass at St. Thomas of Villanova, April 2.

"It really means a lot because (Officer Collier) was really into doing community service, so that's why we wanted to honor him," said Novak.

"The community really helped us. It just really worked out for us because everyone's so nice," she continued.