Obituary: Father George G. Hogan, beloved circus chaplain and area pastor
---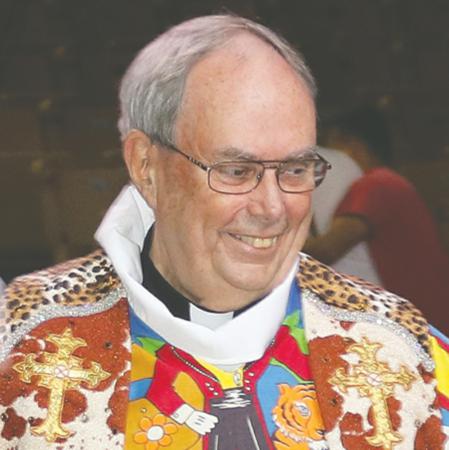 Father George "Jerry" Hogan Pilot file photo
Help us expand our reach! Please share this article
Father George "Jerry" Hogan, a priest of the archdiocese since his 1974 ordination, died on May 5 at Massachusetts General Hospital, Boston, at 75. The occasion of his death brought accolades for his kindness, his wonderful sense of humor, and his outstanding priestly service. More impressive were the tributes from his brother priests who, to a man, recounted Jerry's fraternal interest in priests and his evident happiness in any and all of his assignments.

A Woburn native born on April 13, 1946, and a son of the late George and Alice (Fitzpatrick) Hogan, he was an alumnus of Woburn High School's Class of 1964. Prior to entering the archdiocesan seminaries, he was a student at St. Philip Neri Seminary in Boston. This "preparatory" seminary had been established by the archdiocese and staffed principally by Jesuit Fathers as a first step for men entering the seminary who needed to add to their pre-seminary resumes, especially Latin and Greek.

Following studies at Cardinal O'Connell Seminary in Jamaica Plain and St. John Brighton, Father Hogan and his classmates were ordained at Holy Cross Cathedral by Humberto Cardinal Medeiros on May 18, 1974.

Father Hogan's first assignment was as an associate at St. Theresa of Avila in West Roxbury. It was the first of almost two score assignments he would receive in the intervening years. Following West Roxbury, he was assigned to St. Paul, Wellesley, in 1980, and in 1983, he began a decade-long service as campus minister at the University of Massachusetts Boston campus and at Emmanuel College; during these years, he lived in residence at St. Augustine, South Boston.

It was during these years, in 1990 actually, that Father Hogan was invited to assist in the "Circus Ministry" -- this was a national ministry directed by the United States Conference of Catholic Bishops and in large part funded by the Catholic Church Extension Society of Chicago.

Thus, the "Circus Parish" was a veritable "national," or better, a nationwide parish. Wherever a circus might be, there had to be the circus chaplain. The most famous was the Ringling Brothers Barnum and Bailey, whose headquarters were in Sarasota, Florida. There is a museum there celebrating the circus's legacy and history. There were others, though their chief characteristic was that they were a people on the move. Over the years of his circus ministry, Father Hogan accrued hundreds of thousands of miles, especially in the air but also on land, travelling to and then with the circus.

Following his campus ministry assignment, he was assigned to St. Michael, North Andover, serving as parochial vicar and then as member of a team ministry during the years 1994-2012. He was still serving the circus as well.

After 2012, his assignment list lengthens. He had taken on the circus as a more than part-time ministry and so, during the winter months, he would be on lend lease to the Diocese of Venice in Florida, wherein the city of Sarasota is located, thus between 2013 and 2020, he was for part of each year on lend lease to the southwestern Florida see. When he returned north, he was either a parochial vicar, parish administrator, or in residence: Our Lady of the Assumption, Marshfield, St. Agnes, Middleton; St. Rose of Lima, Topsfield; St. Mary, Foxborough; St. Francis of Assisi, Dracut; Sacred Heart, Lynn; St. Mary, Lynn; St. Mary, Wrentham; St. Martha, Plainville; Good Shepherd, Wayland; Our Lady of Fatima, Sudbury; and, most recently, Our Lady of Sorrows, Sharon, where he served as administrator during a six-month period when the Sharon pastor, Father Francis Daly, was recuperating from surgery.

He put miles on his automobile in his parish assignment travels around the archdiocese as he did in his circus parish assignment travels around the country.

During the years, Father Hogan has been the focus of local and national news coverage; here is a smattering of headlines: "Priest to circus workers relishes road mission," The New York Times, August 21, 2001; "This priest's life is a circus, and he loves it," The Boston Globe, Oct. 20, 2001; "Priest brings comfort to circus parish," The Boston Globe, July 5, 2003; "Ministry in motion" The Pilot, June 13, 2003 and "Lions and tigers and bears, oh my!" The Pilot Oct. 25, 2002.

His stint at Sharon brought high praise from the pastor, Father Francis Daly. "He did a great job during my recuperation. He kept the place going. Very good to the people and has been a great help since my return."

West Regional Bishop Robert Reed was the principal celebrant of Father Hogan's funeral Mass at St. Michael, North Andover, on May 10. Father John Delaney, pastor at Sacred Hearts, Haverhill, concelebrated the Mass and was the homilist -- the two had been assigned together at the North Andover parish and became fast friends there.

Among the many concelebrants of the funeral Mass were Merrimack Regional Bishop Robert Hennessey; the current pastor and parochial vicars of St. Michael, respectively Fathers Kevin Deeley, Jiwon Yoon, and Joseph Hubbard; Father Francis Daly, Our Lady of Sorrows, Sharon; Father John Arens, chaplain at St. Sebastian, Needham, an ordination classmate of Father Hogan; Father Philip McGaugh, St. Mary, Randolph; Father Richard Conway, St. Robert Bellarmine, Andover; and Father James Laughlin, pastor of both St. John the Evangelist and St. Paul, Wellesley, who, as a high school student at Father Hogan's first assignment, St. Theresa of Avila, West Roxbury, was inspired by Father Hogan's joyful priestly life to follow in his footsteps.

Following the funeral Mass, Father Hogan was buried with his parents in Calvary Cemetery, Winchester. A Memorial Mass for his circus family will be scheduled at St. Martha Church, Sarasota, Fla.