Drama Club members celebrate their faith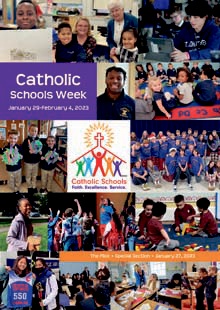 Moments before each performance of an Our Lady of the Assumption School Drama Club play, the entire cast assembles in a room just off the stage. The students form a circle, and the eighth graders, the senior members of the production, lead the rest of the cast in prayer. It is an opportunity for each student to speak about his or her feelings and for all the students to see one another through God's eyes and for all to ask God to help them with their fears and to bless them with success.

The OLA Drama Club prayer circle started back in 2014 when the school began its current version of the club. No teacher instructed the students to gather and pray. The eighth graders at the time simply took it upon themselves and the tradition was born. With each passing production and with each passing year, the new senior members look forward to their chance to gather their fellow cast mates and lead them.

"The prayer circle is a tradition that the cast members do before any performance," says Timothy Ogandzhanyan, an eighth-grade member of this year's Drama Club. "It is a calm moment before the storm where everyone settles down for the last time. It is important to have these types of meetings, because it can bring everyone closer together but also get last minute advice and support."

The OLA Drama Club is an activity for students in grades five through eight, which meets twice a week after school. Participating students learn about acting, play production, and stage work. Their efforts culminate in a weekend of performances in front of audiences of students, family members, loved ones, and friends. Past productions include versions of "A Christmas Carol" and "Oliver Twist," "Snow White," "The Wizard of Oz," and "A Midsummer Night's Dream." The club provides an opportunity for students of all abilities and experience levels to build confidence in their performing and communication skills, to work together in groups toward a common goal, and most of all to make new friends and have fun.

Craig Penkul is a seventh grader who performed in the theater program at his prior school. "I fell in love with live theater because I liked getting a chance to move around on stage and play a certain person." Now at OLA, Craig says he still gets a little anxious before stepping in front of a live audience. "Some ways I can overcome my nerves when it is time to perform is to take deep breaths. This helps me stay calm so I don't mess up in front of an audience. Another way is to stay focused on the performance. You have to make sure you don't miss your cue."

The club has also served to connect the students who attended OLA prior to the pandemic to those who attend now in the 2022-23 school year. Students are encouraged to join the drama club as soon as they reach fifth grade. Last year, when live performances resumed, only the eighth graders had experience in the club. Everyone else was new. Katherine Willett is a first-year teacher at OLA who directed this year's fall performance. "I have been involved with the performing arts since my own time in middle school," says Ms. Willett. "It is very near and dear to my heart. I have been involved in countless plays and musicals. Seeing a performance come together is so exciting to me!"

Observing the OLA Drama Club prayer circle for the first time was a wonderful surprise for the director. "The cast has really great close moments," says Ms. Willett. "The upperclassmen say their part and talk about how grateful they are for their cast mates. It is really special."



WILLIAM BACHNER IS THE VICE-PRINCIPAL AND DRAMA CLUB FACULTY ADVISOR AT OUR LADY OF THE ASSUMPTION SCHOOL IN LYNNFIELD, MA, A PRESCHOOL THROUGH GRADE EIGHT CO-ED SCHOOL SERVING 352 STUDENTS FROM OVER 26 COMMUNITIES.