God's Law: Protecting our fortress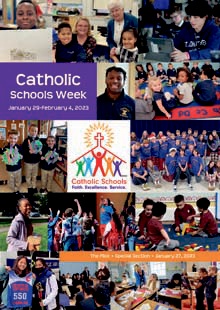 At any Catholic Institution, faith formation is one of the most important components of the curriculum and life, and so it is at Cardinal Spellman. We integrate faith formation throughout the school day, with Morning Prayer, Adoration of the Blessed Sacrament, and Liturgies, but it is in the theology classroom that explicit faith formation takes place every day. Theology is a part of all students' daily schedules. Here, they learn about God and explore their relationship with him. They are then encouraged to cultivate this relationship through the many outlets we provide in Campus Ministry and our mission and faith formation trips.

One theology teacher who prioritizes her students' relationship with God is Mrs. Catherine (Cathy) Costello Demers. She has been a theology teacher at Cardinal Spellman for over three decades. Many alumni have fond memories of her class and reminisce about their own journey of faith when they come back to visit our campus.

Mrs. Demers recently conducted an activity in her classroom to accompany one of her units. The unit was about 'God's Law'; eternal, moral, and natural Law, the 10 Commandments, The Beatitudes and Jesus' teachings, and the Precepts of the Church.

She led her students through an exercise to recreate forts they may have built as children in their living rooms or under their dining room tables. Students were encouraged to bring in blankets, pillows, food, stuffed animals, games, and other things they would have used in their fort building or brought into their forts with them.

When they were done completing this fun and seemingly simple exercise, Mrs. Demers asked questions about how they felt in their fort; who would they let in, would anyone try to destroy it, and would they rebuild it? By answering these questions, they then compared their forts to the laws given to us throughout salvation history.

Mrs. Demers explained to her class that God wants us to be happy and God's laws are the fort around us. We feel empowered, safe, and happy when inside. Even when others try to destroy the fort, or we ourselves destroy it, God gives us tools to rebuild. These tools can be the sacraments, God's word, our Church community, etc.

We have five different theology/campus ministry teachers whose vocation is to teach our students about God and all he does for us in our daily lives, while also providing them with the necessary tools for learning their academic curriculum. All of these teachers use exciting and versatile ways of teaching the importance of God's love to keep our students engaged. By using these activities, it allows students who may not be followers of Jesus Christ to still feel involved in the class, while also gaining knowledge they may not have had before. We believe it is important to provide an education and an environment that is inclusive to all students, no matter what their religion may be.

By providing our students with engaging activities to support different lessons, we are able to help them reach a deeper understanding of what they are learning. Each of our teachers bring a different skill set and ability to help our students enjoy learning and deepening their love for God. Not only in their theology classes, but in all disciplines.

Our mission statement is, "Excellence in Education, Rooted in a Vibrant Lived Catholicism, Inspiring Students to Maximize their Unique Potential as Learners and Leaders, Serving their Community, their Church and the World." We strive everyday to make sure that our students, faculty, and staff embody this standard that we carry so dear to our hearts.



BRENNA ROBERTS IS THE MEDIA AND COMMUNICATIONS COORDINATOR (BROBERTS@SPELLMAN.COM OR 508-521-1830) AT CARDINAL SPELLMAN HIGH SCHOOL IN BROCKTON, A GRADE NINE THROUGH 12, CATHOLIC CO-ED COLLEGE PREPARATORY SCHOOL FOUNDED BY THE SISTERS OF ST. JOSEPH. WITH OVER 450 STUDENTS, WE ARE A FAMILY OF SCHOLARS, ATHLETES, AND ARTISTS WHO ARE CHALLENGED TO REACH THEIR MAXIMUM POTENTIAL.