Xaverian Hawks lend a helping hand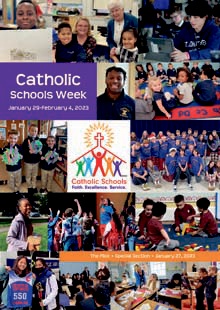 At Xaverian Brothers High School, service is highly encouraged and it can be an impactful experience for the students who choose it. "Whether it is one of the myriad service programs offered by the school or an outside opportunity, Xaverian celebrates when students give back to their communities. We have much to celebrate," says Dr. Jacob Conca, head of school. Here are seven stories of young men at Xaverian who are using their gifts and talents to serve a world in need, written by students in Xaverian's Communications Corps.



Going to bat for cancer research



BY ALEXANDER GIANNACOPOULOS '23



Xaverian senior Cameron Grindle recently stepped up to the plate to support cancer research. He participated in the A Shot For Life (ASFL) Pitcher's Challenge, where he raised money for brain cancer research at Massachusetts General Hospital. A selective process, Cam was approached by a member of the ASFL organization and asked to apply. After interviewing with members of the ASFL team, he was officially selected (alongside 15 other top pitchers in Massachusetts) to join the 2022 Challenge.

The ASFL Pitcher's Challenge took place at Austin Prep High School on Sept. 3, 2022, but Cam began his fundraising for the event in early August. Through advertising on social media and posting at local stores, he was able to exceed his $1,000 goal to bring in $4,400. Cam says he was proud to be selected to participate and happy to support a cause he sees as much bigger than himself. He's looking forward to his senior baseball season at Xaverian this spring. After that, Cam will be competing in the NCAA as a Panther at the D1 University of Pittsburgh next year.



New Life for those in need



BY DECLAN LITTLE '24



Each summer, Xaverian senior Carter Delleo can be found volunteering for New Life Furniture Bank of Massachusetts. New Life is a nonprofit organization that collects used furniture and other household items in order to redistribute them to people in need. Carter fell into the role at the suggestion of his mother, a longtime New Life volunteer. In the past, his volunteerism was limited to moving furniture around the warehouse as necessary, but last summer he had bigger plans. He started his own donation drive, complete with advertising the need, arranging collection, and delivering donations.

"I was able to fill my truck many times over the course of the summer," said Carter. "Toasters, lamps, side tables, chairs, and many other basic necessities were donated to the furniture bank."

His passion for the work is evident. "I like the idea of helping the less fortunate furnish their homes," he said. "Many take basic household items for granted, but this organization opened my eyes to the many families that are starting out with little to nothing in their new space."



Soccer Fights Cancer



BY JAMES KILLINGER '24



In the fall of 2022, Xaverian's varsity soccer program teamed up with fellow Xaverian Brothers Sponsored School, St. John's Prep, in a fundraising soccer game in honor of Breast Cancer Awareness month. Named "Soccer Fights Cancer," Xaverian faced the Prep on Oct. 25 and all of the money raised was donated to Runway for Recovery. According to Head Coach Mr. Garrett Bowers, "Runway for Recovery is an organization supporting people who have breast cancer, their families, and anybody touched by the experience." It all started with senior captains Brendan Murphy and Declan Stack who went to Coach Bowers during the summer to express their idea for the fundraiser, and it grew from there.

When the Hawks took the field on Oct. 25, they did so in style. Senior Timmy Apostolica designed game uniforms and warm-up shirts for players to wear, careful to select products that allowed for a profit margin that could be donated to the cause. In the end, they raised $7,000. "The process overall was a team effort," Timmy said. "After all the talking among players and coaches, it was clear that this was something we were going to do." Like so many, for Timmy, this fundraiser was personal. "Breast cancer has significantly affected many people in my life and in the lives of my teammates. Doing this, personally, helps me think of my family friend who I was extremely close to and looked upon for advice."



Community service as family tradition



BY ANN ALSFELD



Xaverian senior Michael Larmond has been service-focused his whole life. His mother, Katrina Huff-Larmond, has instilled this in him. She is a town councilor for their hometown of Randolph, and when you ask Michael how he got involved in his various service efforts, invariably his answer begins with, "my mom." However, it's clear that this volunteerism is something Michael enjoys and that service isn't a one-time thing for him. He has served for years on the Randolph Youth Council, working to benefit the community. Most recently, they ran a Thanksgiving Food Drive and are planning a clothing drive next for those in need. They've done hurricane relief efforts, spoken at public events, and been part of vigils for gun control. Each Christmas season, Michael looks forward to traveling to Easton to My Brother's Keeper to wrap Christmas gifts for families in need. He's been going since he was 11 years old. Additionally, he and his mother also participate in the Randolph spring cleanup each year to help keep their community clean.

"I believe it's important to give back to the community, to volunteer, and to help others," Michael says. "You never know what someone is going through. My mother always stressed helping the community and helping others. She has taught me how to be a good human being."



Xaverian sophomores assist "Exceptional Citizens"



BY KIERAN MAGUIRE '24



Each summer, Camp Fatima in Manchester, NH, hosts "Exceptional Citizens' Week." It's a camp for children and adults with intellectual and physical disabilities that allows them to participate in fun activities with other campers, all while under the care and supervision of medical professionals. Activities include such summer-camp-staples as horseback riding, swimming, boating, and arts and crafts; they're activities which campers might not be able to do outside of camp without the appropriate assistance. But for one week each summer (thanks in large part to volunteers), Camp Fatima is able to offer the experience of being an "Exceptional Citizen" totally free of charge for all attendees. This past summer, three of the camp's volunteers were Xaverian sophomores Eamon Murphy, Connor Follett, and Tommy Egan. Together, they volunteered as waiters, helping to create an enjoyable environment for campers.

Tommy described this experience as one of the highlights of his summer, calling the camp a lively, fun, and most of all, welcoming environment, for both counselors and attendees alike. By helping the kitchen staff to prepare food and organizing special activities, these sophomores had a personal impact on each camper. On a larger level, their volunteerism also assisted the Diocese of Manchester in achieving its sweeping goals of equality and inclusivity.



Swinging for a cause



BY VINCENT PREZIOSO '24



Xaverian freshman Avery Amato took on cancer last summer, and he did it one swing at a time. He participated in the One Mission Foundation's Golf Fights Cancer event, playing 100 holes as a fundraiser to help children diagnosed with cancer. Avery raised just over $4,000 for the cause. The event took place at Juniper Hills Golf Course in Northborough. According to Avery, "It was a great day meeting new people and getting to enjoy the beautiful course."

Fundraisers like these are important to Avery, as he's been participating in various efforts since he was five years old. Of Golf Fights Cancer, he says, "I was able to do something I really enjoy, while raising awareness for children and their families navigating their difficult journeys -- each one different, each one its own battle. I want them to know that they are not alone in the fight and are never forgotten."



Turning lemons into lemonade



BY ANN ALSFELD



Liam Doherty, an eighth grader at Xaverian, was diagnosed with Crohn's Disease at the age of six. At first, he says he was shy about the diagnosis but as he got older, he realized he can do something to help others like him. "My mom told me to make lemonade out of lemons, so that's what I did." Liam started a lemonade stand to raise money to find a cure for Crohn's Disease. The first year of his stand was in 2017, and he's done it every summer since on the Friday before Labor Day. To date, Liam has raised approximately $100,000 through his lemonade stands and online fundraising, which he has donated to Mass General Hospital. That's where he goes for treatment. "My doctor, Dr. Kaplan, has been awesome for me. He's so supportive and I can always talk to him. I trust that Mass General is the best place to find a cure."

Though it was Liam's idea to fundraise with the lemonade stand, and it's his goal to help find a cure in his lifetime, he says it's the support of his family, friends, and community that has made it all possible. "I don't want anyone in the future to have to experience what I went through. As I get older, I'd like to get to a point where I can raise $50,000 a year and give it to Mass General to help fund research and equipment. I have a lot of support. There's no one telling me, 'This might be hard,' instead they're all saying, 'Anything I can do, let me know.'"



Ann Alsfeld is the director of strategic communications at Xaverian Brothers High School and the moderator of the school's Communications Corps, a group of student volunteers who share the stories of Xaverian through writing, photography, and videography.