Specialized care improves memory care residents' quality of life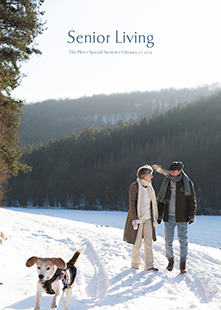 By 2050, the number of people 65 years old or older with dementia is projected to reach 12.7 million in the United States, according to the Alzheimer's Association. In contrast, the rate of people who newly develop the disease appears to be declining. However, even with this lower incidence rate, the number of people with Alzheimer's is expected to increase because the number of adults age 65 and over, which is the age group at the highest risk, continues to grow.

"These statistics are concerning. They highlight the increasing demand for advanced memory care for those suffering with Alzheimer's and related dementias," shares Rebecca Alfonso, ADC/MC/CDP/CMDCP, and director of memory care programs, Mary Immaculate Health/Care Services in Lawrence, Mass. "Today, there's a call for care providers to provide care that effectively addresses the specialized needs of early, middle- and late-stage memory care residents."



Caring for memory-impaired residents

Mary Immaculate is home to a Dementia Specialty Care Unit. The facility was designed and renovated in 2021 based on research from the Alzheimer's Association Habilitation Therapy Program, which found creating a home-like environment helps residents feel comfortable, safe, and valued.

In an effort to further enhance the quality of care offered to the senior community, the specialty care unit is in the process of doubling in size to 80 beds and reorganizing to address the need for 'step down' care of late-stage dementia residents. The quality of life of these residents greatly benefits from fewer stressors, a familiar environment, and a strong continuum of care.

"Late-stage dementia residents often use a wheelchair or enjoy sitting in a recliner. They also require less ambulatory care and physical exercise," adds Alfonso. "They respond beautifully to a soothing and calming approach that includes enhanced sensory programming to engage and stimulate them through sight, smell, hearing, taste, and touch. Our focus on meaningful programming is the very best approach to serving these residents' needs and enriching their quality of life."

"Like all healthcare sectors, senior care is constantly evolving. We're investing in capital improvements, that we expect to be complete by May 2023, to improve the services available to the most fragile seniors in the Central Merrimack Valley," says Del Downing, executive director, Mary Immaculate Health/Care Services. "Our Mission is to provide healing and compassionate care for the whole person. When we strive to meet memory care patients' specific and changing needs, we're doing just that."



Addressing a growing need

"The evolution and expansion of Mary Immaculate's memory care services continue to be an important piece of meeting our community's need for care," says Joan Hatem-Roy, LICSW, chief executive officer of AgeSpan. "The demand for this type of advanced and specialty care continues to rise, and we're pleased to see Mary Immaculate proactively address that demand in the greater Lawrence area."

Families looking for skilled nursing, including advanced memory care, as well as assisted living and other senior care may wish to consider one of Covenant Health's senior care communities located in the Archdiocese of Boston:

Brockton -- St. Joseph Manor Health Care, 215 Thatcher Street -- sjmbrockton.com

Cambridge -- Youville House Assisted Living Residences, 1573 Cambridge Street -- youvilleassistedliving.org

Haverhill -- Penacook Place, 150 Water Street -- penacookplace.org

Lawrence -- Mary Immaculate Health/Care Services, 172 Lawrence Street -- mihcs.org

Mary Immaculate Nursing and Restorative Center

Marguerite's House Assisted Living

Lexington -- Youville Place Assisted Living Residences, 10 Pelham Road -- youvilleassistedliving.org

Waltham -- Maristhill Nursing and Rehab Center, 66 Newton Street -- maristhill.org.