Sister Mary Kathleen Coman, PBVM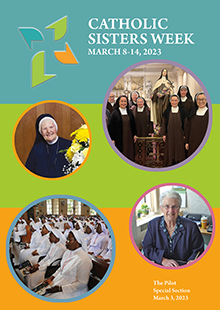 "It's a long road to Tipperary. It's a long road to Tipperary." It is also a long road for Mary Coman, now known as Sister Mary Kathleen Coman, to leave Tipperary and venture to America.

Sister's parents were William Coman and Catherine Fahy. Sister had two brothers, William and Dennis, and two sisters, Ann, who was known as Nan, and Catherine, who was known as Kitty. All of Sister's siblings have gone to God. Kitty, who lived in Greenwich, New York, was the last to join her family in heaven. Sister also has a few nieces and nephews. Sister calls her nephew, Liam, in Ireland once a week and sometimes his sister Mary.

Sister Mary Kathleen was born in Cashel and received the sacraments in her parish church in Clonoulty. Sister left the town of Cobh for America. She would have got a tender out to the liner in the harbor. This was also the final port of call of the ill-fated Titanic.

Sister arrived at Ellis Island in New York Harbor in 1957. Her friend Mary Flannigan and Mary's brother brought Sister to her house overnight. Sister then arrived in Loudonville, New York, the next day to begin her new job as a cook and housekeeper for a family. Sister worked there for two years before entering the Sisters of the Presentation at St. Colman's Home in Watervliet, New York.

The Sisters of the Presentation of the Blessed Virgin Mary were founded in Ireland in 1775 by Nano Nagle. They came to Watervliet, New York, in 1881 to establish St. Colman's Home for Children to keep families together. Since then, the Sisters have cared for the Spiritual and Social development of Children.

The life of a Presentation Sister is both contemplative and active with a daily prayer schedule, habit, convent living, and fidelity to the pope and magisterial teaching.

In 1959, Mary Coman came along with two other women, including her Reverend Mother Mary Louise Kane, PBVM, current Major Superior, and entered St. Colman's Convent. Sister Mary Kathleen's religious life began as a postulant for six months and then Sister received the Holy Habit and received her religious name, Sister Mary Kathleen. During these formative years in religious life, Sister had many opportunities to learn the works of the Sisters of the Presentation and the charism of our founder Mother Nano Nagle. Sister made her final profession on June 29, 1965. At this time, Sister promised vows of poverty, chastity, obedience and the instruction of poor children for life.

Soon after Final Profession, Sister went to Masterson Day Nursery in Albany, New York, the Capital of New York State. Sister Mary Kathleen, besides being the cook, worked with Pre-K students and welcomed the after school students from St. Anthony's School.

After Masterson Day Nursery, Sister Mary Kathleen spent most of her religious life at Cobb Memorial School in Altamont, New York. Cobb Memorial was a school for severely handicapped children. Besides being a cook, Sister worked with the children. She taught them self-help skills, such as dressing themselves, brushing their teeth, combing their hair and bathing skills. Sister would take the children to the playground on the property and then for a walk around the grounds. Sister loved to walk and managed to walk to High Point, which is in the Helderberg Mountains.

When Cobb's closed, Sister Mary Kathleen returned to St. Colman and lived with the Sisters carrying on the Presentation Spirit. Sister's spiritual life was at the top of her list of duties. She could be found in the Chapel, where she was sacristan, saying her prayers; the rosary is Sister's favorite prayer and she says about six rosaries a day. If we need some special intention, we go to Sister Mary Kathleen.

Sister has a quick Irish wit and one could listen for hours to her stories of Ireland. Sister used to do a lot of crocheting in her early days in the Convent.

In closing, if anyone would like to send Sister a birthday card on April 22, she will be 100 years old. She can be reached at St. Colman's Convent, 11 Haswell Road, Watervliet, New York 12189 USA.

May God continue to bless Sister Mary Kathleen with Good Health so she can continue to serve Him whom she loves.