Six ordained to the priesthood
---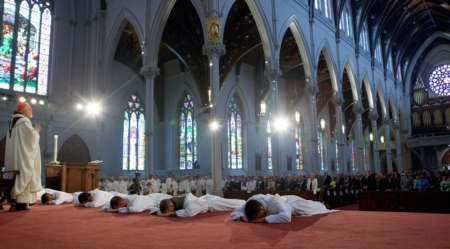 Fathers John D'Arpino, Michael Farrell, Seán Hurley, FPO, Kwang Hyun Lee, Mark Murphy, and Carlos Suarez lie prostrate before the altar during their ordination Mass May 21 at the Cathedral of the Holy Cross. Pilot photo/Gregory L. Tracy
SOUTH END -- Though cloud cover lingered in the skies above the Cathedral of the Holy Cross at the beginning of the Ordination Mass May 21, by the end of the ceremony six men were ordained priests and it was a sunny, warm, and clear day outside.

Cardinal Seán P. O'Malley ordained Fathers John D'Arpino, Michael Farrell, Seán Hurley, FPO, Kwang Hyun Lee, Mark Murphy, and Carlos Suarez to the joy of the large congregation gathered. All men had completed their studies at St. John's Seminary in Boston.

Prior to the beginning of the liturgy, family and friends gathered in pews designated the ordinandi.

Ray Murphy Sr. recalled that when his son Mark was young, he didn't even want to be an altar server like his older brothers. However, by the time of confirmation during his sophomore year in high school, Father Murphy had begun thinking about the priesthood.

His older brothers are both married; one is a police office, the other a dentist.

"I'm a pediatric dentist, and Matty's a cop, and Mark's a priest and somehow I'm the disappointment," quipped Father Murphy's brother, Ray Murphy Jr. "It's an Irish Catholic family with a cop and a priest, I can't really contend."

Ray Murphy Jr. also said, "Proud doesn't even begin to encapsulate I think how all of us feel today about Mark and his hard work."