Rabbi Rosen honored at Redemptoris Mater Seminary gala
---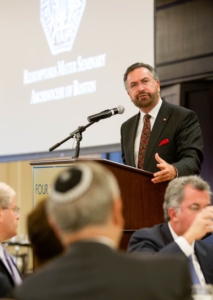 Rabbi David Rosen, International Director of Interreligious Affairs of the American Jewish Committee, addresses guests at the 3rd annual Redemptoris Mater Seminary Gala, held the Four Points Sheraton in Norwood June 24. Pilot photo/ Gregory L. Tracy
NORWOOD -- The work of bringing Catholics and Jews together remains incomplete but is progressing, according to Rabbi David Rosen, guest of honor at the Third Annual Gala Dinner supporting the Redemptoris Mater Archdiocesan Missionary Seminary of Boston on June 24.

Boston's Redemptoris Mater Seminary was erected by Cardinal O'Malley is 2006. The vocations of the Redemptoris Mater arise from the Neocatechumenal Way, an international itinerary of faith formation within the Catholic Church. The men ordained from the seminary are ordained for the Archdiocese of Boston; however, they are also willing to serve the Church anywhere in the country or the world that they are needed and that the archbishop chooses to send them.

A world-renown figure on interreligious dialogue, Rabbi Rosen is the International Director of Interreligious Affairs of the American Jewish Committee and Director of its Heilbrunn Institute for International Interreligious Understanding. He is also the former Chief Rabbi of Ireland.

He is a past chairman of the International Jewish Committee on Interreligious Consultations and is also Honorary Advisor on Interfaith Relations to the Chief Rabbinate of Israel. He serves on its Commission for Interreligious Dialogue, and represents the Chief Rabbinate on the Council of Religious Institutions of the Holy Land.