Foundation provides new home for Sisters of the Good Shepherd
---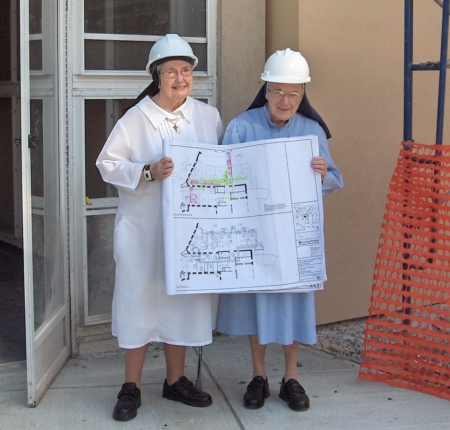 Sister Dorothy Margaret Brown and Sister Mary Felicia Moore were among the Sisters of the Good Shepherd who enjoyed a hardhat tour of the construction site of the new convent in late July. Courtesy photo
MARLBOROUGH -- On Oct. 1 the Sisters of the Good Shepherd will have a new home for their 12 sisters in Marlborough.

Cummings Foundation Inc., a charitable foundation funded by Joyce and Bill Cummings of Winchester since 1986, is in the process of building the 12,000-square-foot site costing $870,000 at 406 Hemenway Street, across from St. Matthias Church.

"We are deeply grateful to Mr. Cummings for all that he has done for us, for all that he is going to do for us. It certainly makes our life not only pleasant but comfortable, safe and prayerful," Sister Jane Amirault, a 72-year-old resident, said.

The building will be connected to the New Horizons assisted living facilities on the same property. The new convent will include a sewing room and parlor, granite finishes, energy-efficient construction, and an elevated, indoor bridge to connect the Sisters with the services offered in the main building.

The sisters have lived on the property since 1993 and currently pay for meals, but do not pay rent.

"It certainly is a good price and it is good food," Sister Jane said.

The sisters on the property help the independent and assisted living communities offer residents daily Catholic Mass in Cardinal Cushing Chapel. The chapel is located directly between the new convent and the main building of New Horizons' assisted living quarters.