Pope Benedict XVI names Msgr. Deeley as auxiliary bishop of the Archdiocese of Boston
---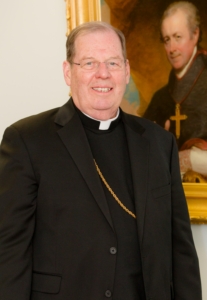 Pope Benedict XVI has named Rev. Msgr. Robert P. Deeley, J.C.D., Vicar General and Moderator of the Curia, as Auxiliary Bishop of the Archdiocese of Boston Nov. 9. Pilot photo/Gregory L. Tracy
BRAINTREE, MA -- Pope Benedict XVI has named Rev. Msgr. Robert P. Deeley, J.C.D., Vicar General and Moderator of the Curia, as Auxiliary Bishop of the Archdiocese of Boston Nov. 9. Bishop- elect Deeley has been assigned the Titular See of Kearney. He has chosen as his Episcopal motto the words of St. Paul, Veritatem Facere in Caritate, which translated means: "To Live the Truth in Love."

Cardinal Seán O'Malley will hold a news conference at 11:00am today at the Archdiocesan Pastoral Center in Braintree.

Cardinal Seán will ordain Bishop-elect Deeley to the episcopacy on Friday, January 4, 2013 at the Cathedral of the Holy Cross in Boston.

Cardinal Seán said, "We are grateful to the Holy Father for naming Msgr. Robert Deeley as an Auxiliary Bishop in the Archdiocese of Boston. Throughout his priesthood Bishop-elect Deeley has served with a deep and abiding commitment to Christ and the Church. As a pastor, as Judicial Vicar, in his vital work at the Congregation for the Doctrine of the Faith in Rome, and now as Vicar General and Moderator of the Curia he has contributed greatly to the life of the Church, always focused on bringing people closer to God." The Cardinal noted that Bishop-elect Deeley will continue to serve as Vicar General and Moderator of the Curia.