Pope Benedict XVI names Msgr. Deeley as auxiliary bishop of the Archdiocese of Boston
---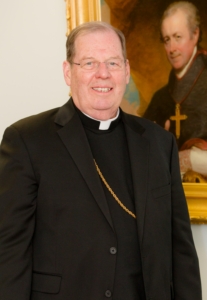 Pope Benedict XVI has named Rev. Msgr. Robert P. Deeley, J.C.D., Vicar General and Moderator of the Curia, as Auxiliary Bishop of the Archdiocese of Boston Nov. 9. Pilot photo/Gregory L. Tracy
BRAINTREE, MA -- Pope Benedict XVI has named Rev. Msgr. Robert P. Deeley, J.C.D., Vicar General and Moderator of the Curia, as Auxiliary Bishop of the Archdiocese of Boston Nov. 9. Bishop- elect Deeley has been assigned the Titular See of Kearney. He has chosen as his Episcopal motto the words of St. Paul, Veritatem Facere in Caritate, which translated means: "To Live the Truth in Love."
Cardinal Seán O'Malley will hold a news conference at 11:00am today at the Archdiocesan Pastoral Center in Braintree.
Cardinal Seán will ordain Bishop-elect Deeley to the episcopacy on Friday, January 4, 2013 at the Cathedral of the Holy Cross in Boston.
Cardinal Seán said, "We are grateful to the Holy Father for naming Msgr. Robert Deeley as an Auxiliary Bishop in the Archdiocese of Boston. Throughout his priesthood Bishop-elect Deeley has served with a deep and abiding commitment to Christ and the Church. As a pastor, as Judicial Vicar, in his vital work at the Congregation for the Doctrine of the Faith in Rome, and now as Vicar General and Moderator of the Curia he has contributed greatly to the life of the Church, always focused on bringing people closer to God." The Cardinal noted that Bishop-elect Deeley will continue to serve as Vicar General and Moderator of the Curia.
Bishop-elect Deeley said, "I am humbled by the Holy Father's confidence in me by appointing me to the episcopacy. Cardinal Seán provided me the great opportunity last year to return home to Boston and be of service to the Archdiocese. I pray that God grants me wisdom to continue to do the work He has blessed me with in nearly forty years of being a priest. Throughout, I have been inspired by the love and support of my family and the joy of bringing the sacraments to our people."
Bishop-elect Deeley, 66, was named Vicar General and Moderator of the Curia in June 2011 and began his current position on September 1, 2011. Born in Cambridge, MA, he grew up in Belmont as the fourth in a family of five sons. His parents, Michael and Mary, now deceased, were born in County Galway, Ireland. The family belonged to Sacred Heart Parish in Watertown where he and his brothers attended school. The Bishop-elect attended Matignon High School in North Cambridge where he graduated in 1964.
Following high school, he entered Cardinal O'Connell Minor Seminary in Jamaica Plain to discern a vocation to priesthood. After two years of college he received a Theodore Basselin Foundation Scholarship and began Philosophy studies at The Catholic University of America in Washington, D.C., where he graduated in 1968. After a year of post-graduate studies he was sent to the Pontifical North American College in Rome for his theological formation. At the Pontifical Gregorian University in Rome he earned a degree in Theology (S.T.B.) in 1972.
After a year of continuing studies in theology, he returned to Boston and was ordained to the priesthood on July 14, 1973 at Sacred Heart Church in Watertown, his home parish.
Page 1 of 2