Plymouth religious ed students use lemonade stand to spread the good news
---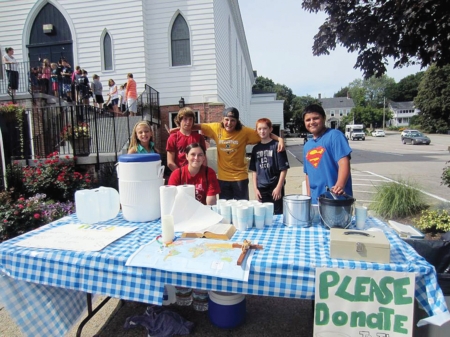 Summer religious education students run a lemonade stand outside their parish, St. Peter Parish in Plymouth, Aug. 7 to raise awareness and support for the Missionary Childhood Association. Courtesy photo
PLYMOUTH -- While some children learn the basics of business by running a lemonade stand, religious education students at one local parish instead used their lemonade stand to teach lessons of faith.
Summer religious education students of St. Peter Parish in Plymouth put their faith into action with a fresh take on the classic lemonade stand, Aug. 7, displaying a Bible, a crucifix, and rosary beads as they shared their faith and free lemonade with passersby while asking for donations to support the Missionary Childhood Association.
The students took to the streets inspired by a visit to their parish from Pontifical Mission Societies representatives earlier in the month and displayed some of what they learned.
"The greatest commandment is 'love one another,' and so they took it literally, and were doing for others," said director of religious education Kathy Liolios.
Students staffing the lemonade stand wore the colors of the World Mission Rosary: green for the forests and grasslands of Africa, blue for the ocean surrounding the islands of the Pacific, white for the seat of the pope in Europe, red for the fire of faith that brought missionaries to the Americas, and yellow representing the morning light of the East in Asia.
Liolios credited Patty Kean, one of the catechists at the parish, for encouraging the students.
"She showed them and let them realize their potential, that they could do something like this, that it wasn't impossible to touch other people's lives," Liolios said.
From the free-will donations of people who stopped in that day, the students raised $258.01 to support the missions.
"I think it was amazing that people would take a 10-dollar bill or a 20-dollar bill out of their pocket and put it in the (donation) box," Liolios said.
The message of faith in action even reached the local firehouse, when a fire truck stopped so firemen could share some lemonade and speak with the students.
Liolios said all the students involved played a part. Some researched how even a small amount of money could help people through the missions, others made posters to promote the event, and stills others contributed supplies.
"Some brought water, some brought the lemonade mix, some brought the coolers to keep it cold, and one brought a cashbox. They all contributed in some way to make this happen," she said.
Page 1 of 2