Cardinal O'Malley, bishops to celebrate Mass at U.S.-Mexico Border
---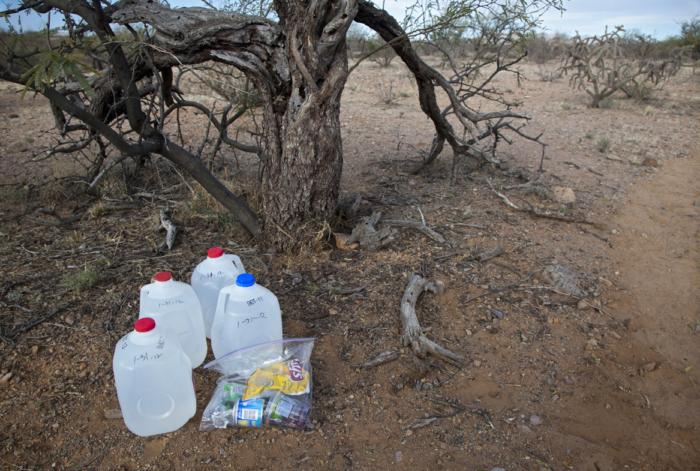 Water and food is left for migrants from Mexico in the Arizona desert in 2012. Cardinal O'Malley and bishops from the U.S.-Mexico border area will celebrate a Mass in Nogales, Ariz. April 1 to remember close to 6,000 migrants who have died in the U.S. desert since 1998. CNS photo/Jim West
BOSTON -- Cardinal Seán O'Malley and bishops who serve on the U.S.-Mexico border will join members of the U.S. Conference of Catholic Bishops' Committee on Migration in Arizona next week to remember the deaths of migrants in the U.S. desert and to pray for immigration reform.
Bishop Gerald Kicanas of Tucson, Arizona, will host the delegation that will meet in Nogales, Ariz. from March 30- April 1 to tour the U.S.-Mexico border area. The gathering will conclude with a Mass celebrated at 9 a.m. April 1 remembering the close to 6,000 migrants who have died in the U.S. desert since 1998.
The trip follows the example of Pope Francis, who, in his first trip outside of Rome, traveled to the Italian island of Lampedusa to remember African migrants who died attempting to reach Europe. During that trip, Pope Francis spoke about the "globalization of indifference" toward migrants and decried the "throwaway culture" that disposes of human beings in the pursuit of wealth.
Cardinal O'Malley spoke about his upcoming trip in his remarks at the Anti-Defamation League Nation of Immigrants Seder held March 23 in Boston.
"In the coming weeks I will join a delegation from the United States Catholic Bishops Conference for a Mass and other events on the border with Mexico, to raise awareness of the plight of so many who seek to come to America," Cardinal O'Malley said.
At the ADL event, the cardinal spoke of the obstacles that undocumented immigrants face as a threat to human life, and recalled comments from Pope Francis' during his visit to Lampedusa.
"As the Holy Father has solemnly observed, all too often those obstacles claim the lives of men and women who seek new freedom and better life," the cardinal said.
"Each year 30,000 unaccompanied children cross the border into our country. Right now there are almost 40,000 immigrants who have been detained, incarcerated at a cost of $2 billion to the American taxpayers," he said.
The cardinal said roughly 400 bodies are found in the border region desert each year, as difficulty in getting into the U.S. grows and people take more risks trying to enter.
The cardinal said he learned about the difficulties faced by the immigrant community particularly during his 20-year ministry in Washington, where he worked with undocumented refugees.
"It taught me so much about the plight of immigrants who had come into this country," the cardinal said.
He spoke also about the historical connection between the Catholic Church in the U.S. and immigrant populations.
Page 1 of 2