Ministries of local sisters highlighted at Regis event
---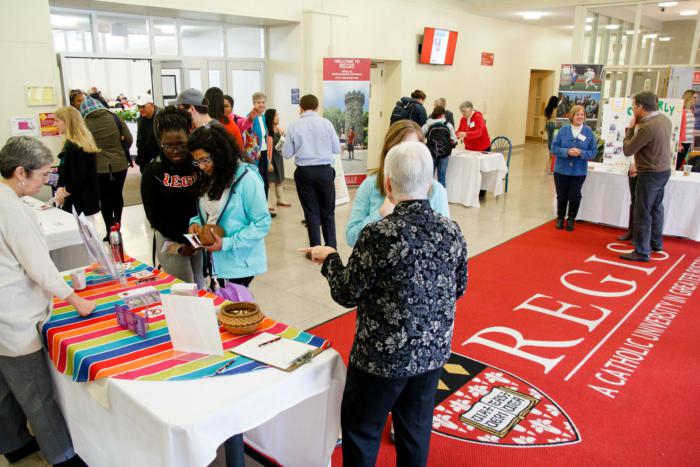 Women religious speak to students outside the Regis dining hall April 4. Pilot photo/Mark Labbe
WESTON -- There was laughter and excited chatter around Regis College's dining hall in the upper student center, April 4, but it wasn't just coming from hungry students.

Just outside the dining hall, a number of religious sisters spoke enthusiastically amongst themselves and to students and faculty, handing out pamphlets and cards detailing some of the various ministries religious women from around the Archdiocese of Boston are involved with during a special "meet and greet" session.

The session, along with a subsequent forum, were meant to serve as a way for students to become better acquainted with the work local sisters do on a daily basis. It was originally planned for March 14, during National Catholic Sisters Week, but adverse weather led the event to be postponed until April.

The Sisters of St. Joseph of Boston, the founders of Regis, were heavily represented at the event, and of the four ministries featured -- The Women's Table, Casserly House, Bakhita House, and The Literacy Connection -- only Bakhita House is not a direct ministry of the Sisters of St. Joseph.

Dozens of students and faculty members stopped to greet and speak with the sisters on their way to or from lunch, and dozens attended the forum, moderated by Mary Lou Jackson of the president's office.

During the forum, representatives from each ministry detailed their work and the impact it has on those the ministries serve, as well as the larger community.