Home is where healthy choices are easy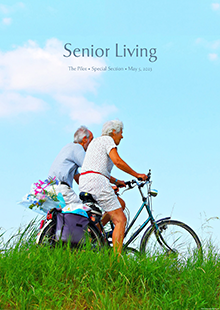 We've all heard the saying, "You are what you eat." For seniors especially, proper nutrition is key for maintaining a healthy body and high quality of life.

Minor complaints like fatigue, headache, muscle soreness, blurred vision, dry skin, or frequent upset stomach could actually be signs of dietary issues such as dehydration, low nutrition, or malnutrition. These conditions can make you feel weak or dizzy, increasing the risk of a fall, and may develop into more serious conditions over time.

Seniors who stay active and maintain a balanced diet are well positioned to live their golden years to the fullest. At not-for-profit New Horizons at Marlborough, a local retirement community with strong Catholic roots, wellness and enjoyment are key components of meals, outings, and events.



Set yourself up for success

Individual nutritional needs vary, and the healthy option isn't always clear. Personalized guidance from a physician or nutritionist can help seniors create a balanced meal plan and, over time, learn to design their own healthy menus. Those without access to such personalized support might consider researching senior living communities that focus on healthy cuisine.

At New Horizons, a registered dietician reviews each season's menu to ensure it is balanced in accordance with U.S. Dietary Guidelines. This expert makes certain that all meals feature a variety of offerings from all food groups.

Residents choose from a varied menu that always includes fresh fruits and vegetables, low-fat and low-sodium options, and whole grains. In addition, New Horizons' dining room manager, also a licensed dietitian, is present to provide on-the-spot guidance for residents with specific dietary questions or needs.

Hydration, as well, remains a priority both at and between mealtimes. Fresh water and other health-conscious beverages are available at every meal, and free juice dispensers, zero-calorie flavored "enhanced water" dispensers, and water fountains are conveniently stationed throughout the community.



Live well, be well

Is fresh, clean water readily available at your residence? Is each meal freshly prepared with balanced nutrition and optimal enjoyment top of mind? Are there frequent opportunities to be active and socialize?

New Horizons promotes healthy choices by making them fun and easy. Through the occasional healthy living challenge, for example, residents receive positive recognition for choosing whole fruits and vegetables over less health-conscious snacks and desserts. Many residents also participate in the community's farm-to-table program, growing and tending a portion of the fruits and vegetables that are later served in the dining rooms.

Community members stay active by traversing the scenic campus walking trails and joining friends for regular group fitness programs, including watercise classes in the heated indoor lap pool. Frequent off-site excursions, educational presentations, and live music performances also provide opportunities for residents to get their hearts pumping a little faster.

Regardless of where we choose to live, a balanced diet, a warm community, and regular low-impact exercise can improve overall health and help seniors live their best lives.



About New Horizons

Located on a heavily wooded 40-acre campus at 400 Hemenway Street, New Horizons at Marlborough offers a continuum of care, including independent living, assisted living, memory care, and geri-psych programs. It is owned by Woburn-based Cummings Foundation, one of the largest private foundations in New England.

Although the community is secular, New Horizons' many Catholic residents participate in Mass at the large on-site chapel as celebrants as well as lectors, greeters, eucharistic ministers, and sacristans. In addition, regular prayer and communion services provide residents with multiple opportunities each week to practice their faith as part of a community, without leaving home. On-campus Protestant and Jewish religious services are also offered.

The strictly not-for-profit New Horizons at Marlborough is currently welcoming new residents to its MetroWest senior living community. Thanks to a unique rate-lock policy, new residents are guaranteed no increases to their rent and board fees for at least their first six years. These fees include all charges for lodging, gourmet meals, water, heat, air conditioning, basic cable TV, local telephone service, parking, and regular maintenance.

Prospective residents and their families are encouraged to contact New Horizons at Marlborough at 508-460-5200 to arrange a time to tour the campus, meet current residents and staff, and sample a home-cooked meal. More information about New Horizons is available at CountryCommunities.com.



ASSOCIATE DIRECTOR TONY SOSA IS A NATICK RESIDENT WITH MORE THAN 30 YEARS' EXPERIENCE IN THE HOSPITALITY INDUSTRY. AFTER EARNING A PROFESSIONAL CHEF DEGREE FROM CAMBRIDGE SCHOOL OF CULINARY ARTS, HE HELD SENIOR ROLES AT A VARIETY OF DISTINGUISHED RESTAURANTS, CAFES, AND EXECUTIVE DINING ROOMS, INCLUDING ST. BOTOLPH'S IN THE SOUTH END AND ELEPHANT WALK LOCATIONS IN BOSTON, CAMBRIDGE, AND WALTHAM.