---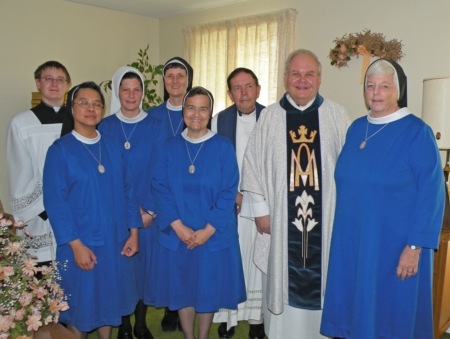 Pictured at the Sacred Heart Convent of the Daughters of Mary of the Immaculate Conception in New Britain Conn. on Aug. 14 are: Seminarian Mateusz Jasniewicz, Sister Mary Theresa, Sister Mary Elizabeth, Sister Mary Ann Marie, Sister Mary Sharon, Father Edmund Nadolny, Msgr. Daniel Plocharczyk and Superior General Mother Mary Jennifer. Pilot photo/ Courtesy Daughters of Mary of the Immaculate
Help us expand our reach! Please share this article
Sister Juanita de la Madre Dolorosa (Norma Inez Kuilan), professed her solemn vows as a Carmelite nun in a Mass Aug. 15 at the Carmelite Monastery in Roxbury. Central regional Bishop Robert Hennessey presided and Father Jaime Loiacono, OMI, was the principal celebrant and homilist.

--

Sister Mary Ann Marie Sullivan and Sister Mary Theresa Tinana, who both reside at Sancta Maria Convent in Cambridge, re-committed to the Daughters of Mary of the Immaculate Conception at Sacred Heart Convent in New Britain, Conn. Aug. 14. Sister Sullivan's parents, James and Dorothy, live in Randolph, and Sister Tinana's parents live in the Philippines.

A postulant, Melissa Scherman of Greenfield, Mass., was also admitted into the novitiate and received the name Sister Mary Elizabeth.

--

Suzanne Perry, a former communications director for the Inner-City Scholarship Fund, has been appointed president of the Jackson-Walnut Park Schools Educational Collaborative. Jackson-Walnut Park Schools are sponsored by the Sisters of St. Joseph and include the Jackson School and the Walnut Park Montessori School in Newton.

Most recently, Perry was a communications and advancement director for Aviv Centers for Living in Swampscott and Peabody.

Perry, who began her professional career as a teacher in Boston and Canton parochial schools, has more than 20 years of experience in donor communications management for non-profit institutions including 11 years at Tufts University and many years of working as for the Inner-City Scholarship Fund.

--

Merrimack College, a four-year Catholic college in the Augustinian tradition offering business, education, liberal arts, science and engineering programs at a residential campus in North Andover, was named one of 218 "Best in the Northeast" institutions by The Princeton Review. The college is mentioned on Princeton Review's website and its book, "The Best Northeastern Colleges: 2011 Edition."

Merrimack enrolls 2,000 full-time students from 26 states and 14 countries, and has a student-teacher ratio of 13-to-1. Nearly eighty percent of the students reside on campus. In addition to 65 clubs and organizations, 20 varsity sports for men and women are offered, including Division I men's hockey.

--

St. Michael School of Hudson announced Aug. 18 that Anne Dailey has accepted the position of school principal. Dailey brings over 18 years of experience as an educator and administrator to her new position. She was most recently the head of St. Mary School in Quincy and prior to that, St. Gregory School in Dorchester.

Dailey received her B.S. in Elementary Education from Boston College, her Masters in Interactive Technology in Education from Harvard University, and is a Candidate for Advanced Graduate Studies in Educational Leadership at Emmanuel College.