---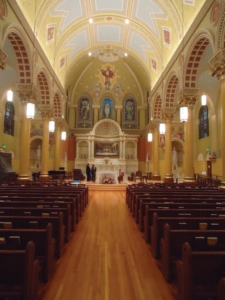 St. Cecilia's Church in Boston's Back Bay completed major interior renovations this month. Pilot photo/Patrick O'Connor
Help us expand our reach! Please share this article
Crowley named principal of St. John's Prep

Keith Crowley has been named principal of St. John's Prep in Danvers, and will begin his duties on July 1, 2011. He succeeds Edward Hardiman, who will become headmaster of the school, also on July 1.

Crowley comes to St. John's from Xaverian Brothers High School in Westwood, where he has served as assistant principal for academics since 2003. He began his career at Xaverian in 1997 as a science teacher and track and field coach. In 1999, he was named chair of the science department, and in 2001 he became assistant principal for freshmen.

In addition, Crowley has been an adjunct professor of science at Dean College in Franklin since 2003. He also serves on the faculty of the Summer Institute at Loyola University's Center for Catholic School Effectiveness in Chicago.

Norris to chair Regis College board

Donna Norris has been elected chair of the Regis College Board of Trustees, effective immediately, the school recently announced.

She has been a member of the Regis College Board since 2008 and will begin her second term in Jan. 2011.

A practitioner of child, adolescent, adult and forensic psychiatry, Norris is a clinical professor at Harvard University Medical School and a consultant for the Probate and Family Courts. She is the immediate past president of the Norfolk District of the Massachusetts Medical Society, chair of the ethics committee of the Massachusetts Psychiatric Society, and a board member of the Massachusetts Children's Trust Fund.

She is currently editing a book on the lives of women psychiatrists.

Benefit for trafficking victims

The Sisters of St. Joseph hosted a benefit concert at their motherhouse in Brighton Dec. 12 for the creation of a Safe House for victims of human trafficking. The concert was performed by Father Robert Congdon, pastor of St. Mary Parish in Brookline, on keyboard, Becki Waters (soloist), Paul Mattal (cellist) and Marco Florez (keyboard). The musicians donated their time, and performed several original works.

Renovations at St. Cecilia's

St. Cecilia Church in the Back Bay reopened Dec. 12 after recently completing a major interior renovation. The church closed after Easter for a major overhaul that included new flooring, pews, painting and a redesigned sanctuary and entrance. Among delighted parishioners attending the 11 a.m. Mass that day were the project's numerous contractors, painters, and construction workers. The renovation continues with restoration of the attached rectory and redesign of the lower church into a parish center complex.

The parish will celebrate its 125th anniversary in 2013.