Obituary: Father Charles Logue, former Army chaplain and Quincy pastor
---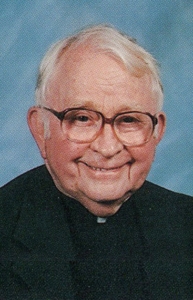 Father Charles D. Logue Pilot file photo
Help us expand our reach! Please share this article
A Boston native where he was born on Jan. 9, 1924 and a priest of the archdiocese since his ordination on May 6, 1948, Father Charles D. Logue died at Cape Heritage Nursing Care, Sandwich on Nov. 10. He was 89.

A son of the late Charles and Mary (Connolly) Logue, Father Logue was raised in Norwood and attended St. Catherine of Siena Parish Grammar school, on his graduation from Norwood High School in the Class of 1941, he entered Boston College as a member of the class of 1945 and after two years entered St. John Seminary. Archbishop Richard Cushing ordained him to the priesthood at Holy Cross Cathedral on May 6, 1948.

His first assignment to St. Rita in Lowell ended a few months following ordination when he volunteered to accept a "Lend Lease" assignment to the diocese of Fargo, North Dakota. The archdiocese was enjoying a boom in vocations and Archbishop Cushing encouraged archdiocesan priests to volunteer to "priest poor" dioceses. On his return to the archdiocese in 1953 he was named an assistant at St. Peter Parish, Cambridge. Near the end of his assignment in Cambridge, his pastor was his former seminary professor and later auxiliary bishop of the archdiocese, Thomas J. Riley.

In 1959 he was released for service as a military chaplain for the US Army, he returned for four year assignment as an assistant at St. Mary, Waltham.

In February 1965, as the Vietnam conflict continued to escalate, he returned to the Army chaplain corps where he would serve for the next quarter century. His Army chaplain duties would take him literally across the globe. Bases assignments outside the US included Camp Zuma, Japan; Camp Darby, Livrono, Italy; and Stuttgart, Germany; among his stateside posts were Fort Rucker, Ala.; Fort Leonard Wood, Mo.; Fort Devens; and Army posts in California.

On his retirement from active duty he was named pastor at Most Blessed Sacrament in Quincy's Hough's Neck section in 1991 he was named parochial vicar at Our Lady of the Lake Parish, Halifax, and a senior priest (maintaining residence in Halifax) in 1997.

In October 2006 he retired to his own home in Chatham, where he was a familiar face in the lower Cape parishes for many years. As his health declined he moved to the upper Cape and Cape Heritage in Sandwich.

South Regional Bishop John Dooher was the principal celebrant of Father Logue's funeral Mass celebrated on Nov. 15 at Our Lady of the Lake, Halifax. Father Logue's classmate, Msgr. Albert Contons, Regina Cleri Boston was the homilist, among the concelebrants were Father Stephen Healy, Halifax pastor; and Boston senior priest Father Thomas W. Buckley of Abington.

Following the Funeral Mass and parish reception, Father Logue was buried in Highland Cemetery, Norwood.