Obituary: Father Albin F. Janiunas, retired pastor of Lawrence parish
---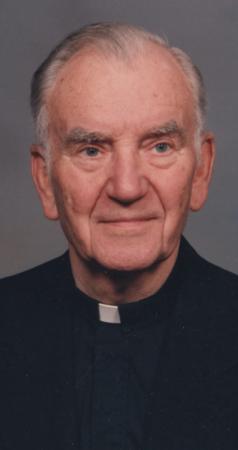 Father Albin F. Janiunas Pilot file photo
Help us expand our reach! Please share this article
Merrimack Regional Bishop Robert F. Hennessey was the principal celebrant of the Funeral Mass of Father Albin F. Janiunas on June 10 at St. Peter Lithuanian Church in South Boston. The retired pastor of St. Francis of Assisi Lithuanian Parish in Lawrence, Father Janiunas died at Sancta Maria Nursing Facility in Cambridge on June 6. He had celebrated his 90th birthday on May 5.

A native of Cambridge, he was a son of the late Frank Janunas and Charlotte (Shimbolitti) Janunas. The devoutly Catholic family lived in Cambridge and were parishioners of Immaculate Conception Lithuanian parish where young Albin was taught by the Sisters of Jesus Crucified and the Sorrowful Mother a congregation of sisters who ministered to Lithuanian communities and is now headquartered in Brockton and who staffed the parish school. He attended high school at St. John the Evangelist in Cambridge, later North Cambridge Catholic High School.

He entered the seminary following high school and was quick to remind folks that he had served in various capacities under all of Boston's cardinal archbishops; Cardinal O'Connell was archbishop when he entered the seminary. Archbishop Richard Cushing ordained him to the priesthood at Holy Cross Cathedral on May 6, 1948 the day after his 24th birthday.

Two weeks following ordination he arrived in Boston's Allston section where he served for only two weeks as an assistant at St. Anthony of Padua Parish. All of his subsequent assignments were to various Lithuanian personal parishes across the archdiocese; not because of his name only, but because of his fluency in his ancestral tongue.

The first parish where he was an assistant was St. George in Norwood (1948-1951); followed by St. Francis of Assisi, Lawrence (1951-1963); and finally at St. Peter, South Boston from 1963-1977.

Humberto Cardinal Medeiros named him pastor returning him to the Lawrence parish where he had previously served as an assistant; he was pastor there from June 1977 to July 1995. On retiring at age 71, he was granted senior priest status by Bernard Cardinal Law. He lived for the remainder of his life in his native Cambridge assisting at parishes, principally at St. Peter in South Boston.

Bishop Hennessey recalled that even as Father Janiunas advanced in years he loved being at priest gatherings. "He was often the first to reply to an invitation to the regular priest gatherings for the Central Region. He came and mixed easily and happily with young and old."

Among those concelebrating with Bishop Hennessey were Msgr. Albert Contons of Regina Cleri, who was also the homilist; Father James Flavin, Central Regional Vicar; Father Stephen Zukas, pastor of St. Peter Parish and Father Thomas Corcoran, parochial vicar at St. Mary, Chelmsford.

His brother Vyto Janunas of Cambridge is the sole immediate survivor. Following the Funeral Mass, Father Janiunas was buried in St. Michael Cemetery, Roslindale.