Historic day at historic place
---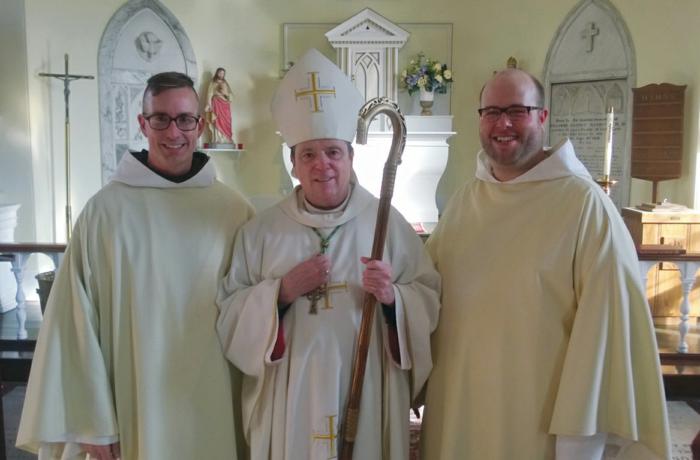 Brothers Jeffrey Jordan and Ross Chamberland, OFM are pictured with Bishop Robert Hennessey following their diaconal ordination at St. Augustine Chapel, South Boston Aug. 28. Pilot photo/courtesy Brother James Peterson, OFM Cap.
Help us expand our reach! Please share this article
In a holy place where the mortal remains of pioneer priests of the archdiocese are buried beneath its floor, the chapel of St. Augustine in the cemetery of the same name in South Boston was the site of an ordination of deacons.

Two Franciscan Friars of Holy Name Province, Brothers Jeffrey Jordan and Ross Chamberland, were ordained transitional deacons in the chapel on Aug. 28 by Merrimack Regional Bishop Robert Hennessey, who returned to his boyhood parish to celebrate the ordination.

Despite being the oldest surviving Catholic church in Massachusetts, it is believed to be the first time an ordination has been celebrated in the chapel.

Although the parish of St. Augustine is now closed, the chapel carries the parish's name and continues to be a place of worship. A Sunday Vigil Mass is celebrated weekly at the chapel by the priests of Gate of Heaven, St. Brigid and of St. Monica and St. Augustine parishes. Father Robert Casey oversees all three parishes and has demonstrated a strong commitment to maintaining and restoring the small church.

Among the priests buried in the chapel are Father Francis Matignon, the great missionary priest of the archdiocese; the high school in Cambridge bears his name. And a member of one of the most famous Catholic families in archdiocesan history, Father Alexander Sherwood Healey; his brother Bishop James Healey was second bishop or Portland and the annual Healey Award given by the Archdiocesan Office for Black Catholics bears the bishop's name.

The new deacons had professed solemn vows Aug. 23 at St. Francis of Assisi Church in New York. The two deacons will return to Boston, where on Jan 3, 2015 they are scheduled to be ordained to the priesthood at St. Anthony Shrine on Arch Street by Cardinal Seán P. O'Malley.