Priest with local ties named global leader of Oblates
---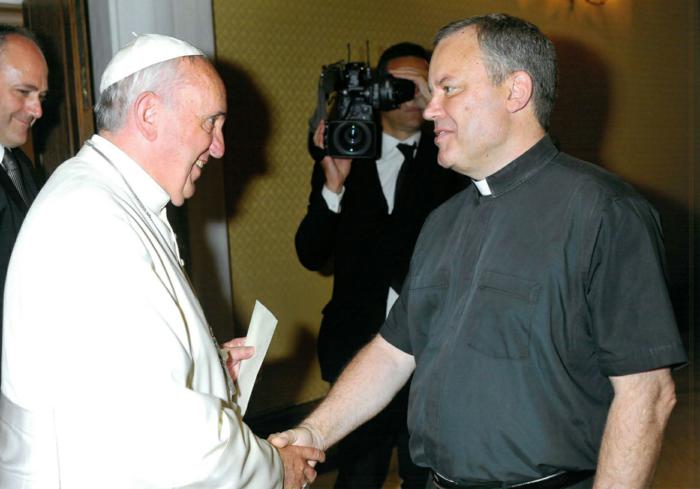 Father David J. Nicgorski, the newly appointed Rector Major of the Oblates of the Virgin Mary, greets Pope Francis earlier this year. Pilot photo/courtesy Oblates of the Virgin Mary
Help us expand our reach! Please share this article
Boston -- A priest of the Oblates of the Virgin Mary with Boston ties has been tapped to lead the order globally.

The Oblates of the Virgin Mary elected Father David J. Nicgorski, 58, of Philadelphia, Pennsylvania, as the Rector Major of the Oblates of the Virgin Mary in July. Just before that, Father Nicgorski served as the provincial for the North American St. Ignatius Province of the Oblates.

Father Nicgorski learned of the appointment at a July meeting with Pope Francis.

"Two things strike my heart. One is the challenge of having an international responsibility, and the other is the delight that I had in being received by the Holy Father and meeting Pope Francis," Father Nicgorski.

The Oblates of the Virgin Mary is a religious institute of priests and brothers founded by the Venerable Father Bruno Lanteri in northwestern Italy in 1826. Since the initial foundation, the Oblates have worked throughout Italy and its islands, and in France, Austria, Myanmar, Argentina, Uruguay, Brazil, the United States of America, Mexico, Canada, the Philippines, and Nigeria.

"The challenge of understanding other cultures and religious life in other cultures is what strikes my heart," Father Nicgorski said.

Born in 1956, Father Nicgorski received a bachelor's degree from Our Lady of Grace Seminary in Boston in 1986, continued studies at the Angelicum in Rome where he graduated in 1989, and received a master's in divinity from St. John's Seminary in 1991. He made his solemn profession in 1990 and received ordination to the priesthood the year he graduated from St. John's Seminary.

Following ordination, he served as the Associate Pastor at St. Andrew's Parish in Avenel, N.J. from 1991 until 1992, program director at Emmaus House in Perth Amboy, N.J. from 1992 until 1996), diocesan director of youth and young adult ministry in Metuchen, N.J. from 1996 until 2002, and director of the parish mission and retreat team at St. Joseph's Retreat House in Milton, from 2002 until 2009.

His mandate as Provincial of the St. Ignatius Province of the Oblates of the Virgin Mary began 2009, continued into a second term, and ended with his election as Rector Major. A consultative vote will determine his successor as provincial.

Father Nicgorski became the 18th Rector Major of the Oblates of the Virgin Mary in July 2015. With his election to succeed the Italian-born Father Sergio Zirattu as Major Rector, Father Nicgorski takes over as the order gears up to celebrate their 200th anniversary next year.