For Boston priest and bishop, eclipse trip went 'from science to spiritual very fast'
---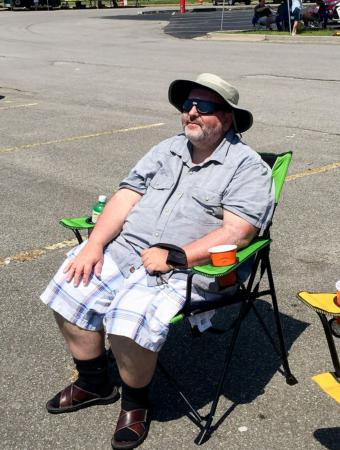 Father Paul Soper watches the Aug. 21 solar eclipse in Athens, Tenn. Courtesy photo
Help us expand our reach! Please share this article
BRAINTREE -- For three days they traveled, driving a total of 1,352 miles from Massachusetts to their eventual destination of Athens, Tenn. Once there, they pulled into a parking lot, put down chairs, put on special sunglasses, and took out a pair of solar binoculars.

Father Paul Soper and Bishop Mark O'Connell were ready to witness the Aug. 21 solar eclipse.

Friends since their seminary days, Father Soper and Bishop O'Connell had been planning the trip for months. While the solar eclipse was visible in all 50 states, a total solar eclipse, or one that sees the moon completely block out the sun, was visible only in a 70-mile wide path the stretched from the Northwest to Southeast U.S. -- and it was a total solar eclipse they wanted to see.

The original plan was to watch the eclipse in or around Colombia, S.C., where Father Soper, who besides being Secretary for Evangelization and Discipleship is also a trained astrophysicist, noted that the time of totality would be around two minutes and 30 seconds.

The plans abruptly changed after Father Soper saw that the forecast called for problematic weather in the area.

"I had alternative plans, and I texted Bishop Mark at around 3:30 in the morning, and I said 'Pack up, we have to go,'" he said in a phone call from the road, Aug. 22.