From Cardinal Seán's blog
---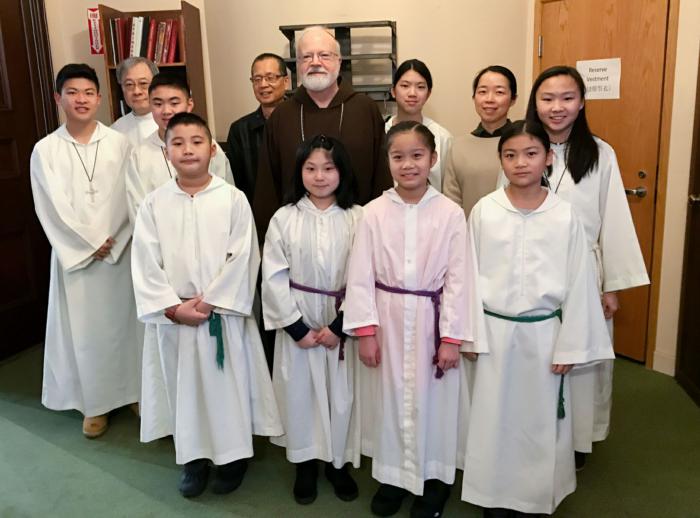 "I went to St. James the Greater Church in Chinatown to bring New Year's greetings to our Chinese Catholic community." Pilot photo/CardinalSeansBlog.org
Help us expand our reach! Please share this article
Installation

Last Friday (2/16), I went to our Redemptoris Mater Seminary in Brookline for the installation of six new lectors and one acolyte.

Little by little the number of men advancing toward ordination at the seminary is beginning to grow. I think many people lose sight of the fact that the seminarians at the Redemptoris Mater have a mission experience where they work 'in the field' for two or three years. So, their period of formation is a little longer than at our other seminaries.

As usual, the seminarians regaled us with songs after dinner. It was a joyous ceremony and a very nice evening for all of us.

Meeting with communities

Saturday (2/17), I met with representatives from Neocatechumenal communities from the parishes of Immaculate Conception in Revere and Our Lady of the Assumption in East Boston. They had just completed one of the stages of their adult Christian formation, the Second Scrutiny, and they came to talk to me about their desire to make a contribution to support works of mercy and evangelization.

Discipleship demands that we have a Christian attitude towards money, wealth and possessions. Obviously, the purpose of the Second Scrutiny is to inculcate into people a sense of trust in God's providence and the embracing of an evangelical spirit, which is one of humility, trust and simplicity of lifestyle.

Visiting Chinese Catholic community

Sunday (2/18), I went to St. James the Greater Church in Chinatown to bring New Year's greetings to our Chinese Catholic community. The Chinese calendar, which is one of the oldest calendars in the world, follows a 12-year zodiac cycle and this year is the Year of the Dog.

I also took occasion of my visit to bless the renovations in the church.

...Of course, we are all carefully watching developments in church-state relations within China itself. The Holy Father has made some overtures aimed at building better relations with the Chinese government and hopefully bringing about greater freedom of religion for Catholics.

After the Mass, they had a lively and colorful celebration with the traditional Chinese symbols such as the lion and the cabbage.

Celebrating the Rite of Election

Following the Mass at St. James, I left for Immaculate Conception Church in Malden where we held our two celebrations of the Rite of Election.

At 1:30 we received candidates and catechumens from the North, South and West Regions of the archdiocese and at 4:00 we received those from the Merrimack and Central Regions. In addition to the groups from the parishes, there was also a large group of college students from campus ministries.

We are very grateful to Father Al Capone and the parishioners of Immaculate Conception for hosting us during this time that the upper church of the cathedral is unavailable. (Though, at both celebrations, I began the ceremony by inviting people to close their eyes and to pretend that they were in the Cathedral of the Holy Cross!)

...It is a wonderful opportunity for them to see that they are part of something larger than just the parish that is receiving them, that they are part of the Universal Church. I think it is very encouraging for them to realize that there are hundreds of people in Boston making the same step that they are.

Meeting with priests

Tuesday (2/20), we had one of our regular meetings with our priests ordained within the last five years at the Pastoral Center.

As always, we gathered for lunch and a time of reflection. This time we spoke about pastoral ministry and themes around Lent. I also gave them a report on the work of the Pontifical Commission for the Protection of Minors.