In new book on clergy and religious life, Pope Francis addresses homosexuality
---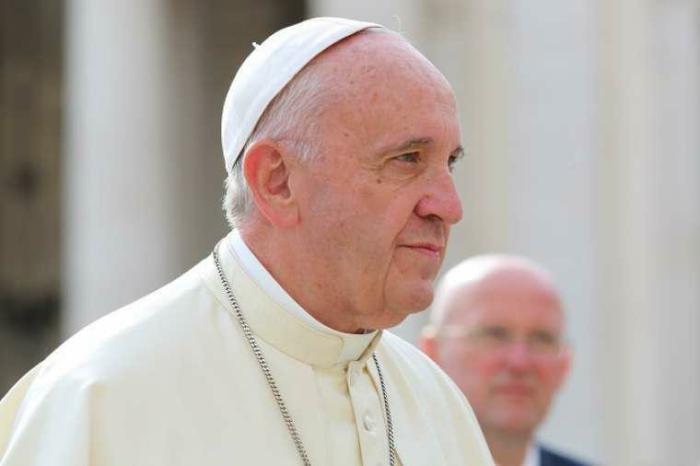 Pope Francis arrives in St Peters Square for the general audience Sept 21 2016. Photo credit: Daniel Ibez CNA
Help us expand our reach! Please share this article
Vatican City, Nov 30, 2018 CNA.- In a book-length interview to be published next week, Pope Francis addressed gifts and challenges for clerical and religious vocations, among them the challenge of homosexuality in the clergy.

"The issue of homosexuality is a very serious issue that must be adequately discerned from the beginning with the candidates, if that is the case. We have to be exacting. In our societies it even seems that homosexuality is fashionable and that mentality, in some way, also influences the life of the Church," the pope says in the book "The Strength of a Vocation," set to be released Dec. 3 in ten languages.

In an excerpt from the book, released Friday by Religión Digital, the pope said he is concerned about the issue of evaluating and forming people with homosexual tendencies in the clergy and consecrated life.

"This is something I am concerned about, because perhaps at one time it did not receive much attention," he said.

Francis said that with candidates for the priesthood or religious life "we have to take great care during formation in the human and affective maturity. We have to seriously discern, and listen to the voice of experience that the Church also has. When care is not taken in discerning all of this, problems increase. As I said before, it can happen that at the time perhaps they didn't exhibit [that tendency], but later on it comes out."

"The issue of homosexuality is a very serious issue that must be adequately discerned from the beginning with the candidates, if that is the case," the pope reiterated.

Francis recalled that one time "I had a somewhat scandalized bishop here who told me that he had found out that in his diocese, a very large diocese, there were several homosexual priests and that he had to deal with all that, intervening, above all, in the formation process, to form a different group of clergy."

"It's a reality we can't deny. There is no lack of cases in the consecrated life either. A religious told me that, on a canonical visit to one of the provinces in his congregation, he was surprised. He saw that there were good young students and even some already professed religious who were gay," he related.

The pope said that the religious "wondered if it were an issue and asked me if there was something wrong with that. Francis said he was told by one religious superior that the issue was not "that serious, it's just an expression of an affection."

"That's a mistake," Francis warned. "It's not just an expression of an affection. In consecrated and priestly life, there's no room for that kind of affection. Therefore, the Church recommends that people with that kind of ingrained tendency should not be accepted into the ministry or consecrated life. The ministry or the consecrated life is not his place."

We "have to urge homosexual priests, and men and women religious to live celibacy with integrity, and above all, that they be impeccably responsible, trying to never scandalize either their communities or the faithful holy people of God by living a double life. It's better for them to leave the ministry or the consecrated life rather than to live a double life."

The pope was asked in the book if there are limits to what can be tolerated in formation.

"Of course. When there are candidates with neurosis, marked imbalances, difficult to channel not even with therapeutic help, they shouldn't be accepted to either the priesthood or the religious life, They should be helped to take another direction (but they should not be abandoned. They should be guided, but they should not be admitted. Let us always bear in mind that they are persons who are going to live in the service of the Church, of the Christian community, of the people of God. Let's not forget that perspective. We have to care for them so they are psychologically and affectively healthy," the pope replied.

The book is the transcript of an interview conducted by Fr. Fernando Prado, director of the Claretian publishing house in Madrid.

This article was originally published by our sister agency, ACI Prensa. It has been translated and adapted by CNA.