St. Joseph Prep student awarded Questbridge Scholarship to Wellesley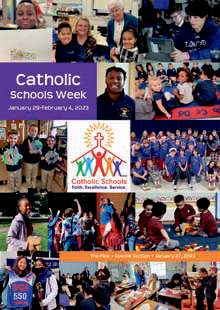 St. Joseph Prep Boston is pleased to announce that Edylene Altidor '23 has been recognized as a Questbridge Scholar. Through Questbrige, Edylene has received a full scholarship to Wellesley College. Questbridge is a national program that connects high-achieving high school seniors from low-income backgrounds with full four-year scholarships to some of the nation's best colleges. Out of 17,900 applicants, Edylene was one of only 1,755 finalists to receive this highly competitive scholarship.

"Receiving the Questbridge scholarship to Wellesley was a weight off of my shoulders because not only will it help me, but it will help my family, too," said Edylene Altidor, St. Joseph Prep '23. "The writing and speaking skills I gained in my AP English Language and AP Literature classes at St. Joseph Prep set me up for success as writing was a fundamental piece of the Questbridge application process."

Edylene is the third St. Joseph Prep student to be awarded a Questbridge Scholarship in two years. Last year, Ann-Coralie Daniel '22 was granted a Questbridge scholarship to Wellesley College, and Samantha Desmornes '22 to Williams College. Edylene, Ann-Coralie, and Samantha all attended Mother Caroline Academy before attending St. Joseph Prep. Edylene is also a Catholic Schools Foundation Scholar.

"There is no one more deserving of this amazing opportunity than Edylene," said Sarah Christ, college and school counselor at St. Joseph Prep Boston. "Edylene is so driven and has gracefully balanced academic, extracurricular, work, and family responsibilities with a level of maturity well beyond her years. I have been lucky to witness Edylene flourish here at SJP, and I am fully confident that she will make the most of her Wellesley education as she studies to become an architect, while meaningfully contributing to the Wellesley community."

"We are so very proud of Edylene for receiving a highly prestigious Questbridge scholarship," said Eugene Ward, head of school. "This recognition is well deserved by Edylene, who embodies the mission of St. Joseph Prep and the charism of the Sisters of St. Joseph of Boston. We have been blessed to have Edylene as part of our SJP community for the past four years, and are excited to watch her excel at Wellesley College."

St. Joseph Prep is currently accepting applications for grades 9-12. Visit St.josephprep.org/apply to learn more about an SJP education, which is marked by academic excellence, authentic community, meaningful engagement, and dynamic innovation.