Excellence and opportunity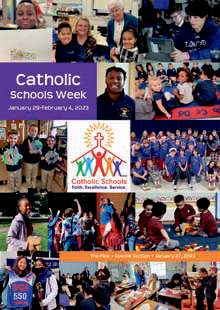 Today's students are driven. They crave more opportunity for growth than any textbook or course of study alone can give. They have access to effectively unlimited knowledge through Google and YouTube and maintain connections with friends, family, and people from around the globe through social media.

With the sum of human knowledge only a few clicks away, what matters most is for our students to learn how to use that knowledge. To learn how to innovate, serve, and lead in a complex and changing world. When the "what" to almost any question is readily available, the "why" becomes all the more important.

Chances are, you won't stimulate a student today by asking them to solve a list of math problems. But if you teach them to solve math problems in the pursuit of something greater -- like balancing the budget of their new small business, or determining the macroeconomic factors that lead to global wealth inequality -- truly amazing things can happen.

At Boston College High School, the great "how" and "why" questions have always been at the core of what we do -- educating young men for justice who grasp a greater sense of purpose and have a clear vision of the bigger picture. Our 500-year tradition of Jesuit Catholic education emphasizes a depth and breadth of learning that enables our students to thrive in any environment, from the boardroom to the battlefield, in ministry or in science, and across any country on Earth.

We believe that the solution to unlimited knowledge is learning to use one's education in service of others. We eschew the surface, the artificial, the transient trappings of our time, and we embrace real, authentic learning, and relationships. Our dedicated faculty and staff care deeply about each student as an individual person, and I am constantly amazed with the way they ignite our students' passions and inspire their optimism for the future.

BC High students commit to themselves, to each other, and to Boston and beyond by wielding knowledge like a tool of transformation. They engage in pitch competitions to design solutions urgently needed in our communities. They reflect deeply on causes of systemic injustice and partner on service projects that seek to alleviate and reduce human suffering. They know that success and selflessness are not contradictory, but rather, deeply intertwined.

Our network of more than 15,000 dedicated alumni provides opportunities for direct mentorship from some of Greater Boston's brightest minds, from Jack Shields '79, P'06, to Mike White '70. Amidst a new wave of entrepreneurship among young people, our Centers for Human Excellence provide unparalleled opportunities for students to grow as leaders, innovators, advocates and activists, global citizens, and above all -- men formed with a strong moral, spiritual, and introspective foundation.

With Boston as their classroom, our students are just a few train stops away from the rest of the world. They apply what they've learned in biology and anatomy at the Harvard Medical School MEDscience program. They grow through service to the city's marginalized and at-risk populations. Their studies in art and government come alive at the Isabella Stewart Gardner Museum and Edward M. Kennedy Institute for the U.S. Senate.

Like any generation born into technological revolution, they stand on the precipice of a new world. Today's youth hold enormous power in how that world will be shaped and formed, whom it will serve, and how it will be ordered. Our students know that the answer to that call requires them to be men for and with others, rooted in excellence, with a commitment to building a brighter future for us all.

I encourage you to learn more about our unparalleled opportunities for excellence, and radical commitment to student support and wellbeing at bchigh.edu.



GRACE COTTER REGAN P' 12 IS PRESIDENT OF BOSTON COLLEGE HIGH SCHOOL, A JESUIT, CATHOLIC, COLLEGE-PREPARATORY SCHOOL FOR YOUNG MEN IN GRADES SEVEN TO 12. FOUNDED IN 1863, THE SCHOOL ENROLLS APPROXIMATELY 1,500 STUDENTS FROM MORE THAN 140 COMMUNITIES IN EASTERN MASSACHUSETTS.