STREAM of Knowledge at St. John Paul II Catholic Academy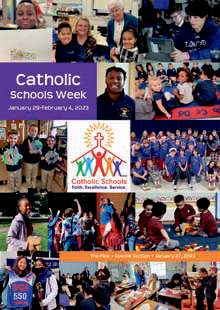 Students from K1 to grade eight at St. John Paul II Catholic Academy (SJPIICA) in Dorchester are learning about the career fields associated with STREAM (Science, Technology, Religion, Engineering, Art, and Math) and the opportunities the six disciplines offer to develop critical-thinking skills, to explore occupation possibilities, and to grow into globally competent citizens.

STREAM is an opportunity for young students to learn via multiple lenses, including the lens of different faiths. It is not a new framework but a roadmap for creative teaching. Incorporating those six areas of study throughout all subject matter gives our boys and girls, ages three to 14, hands-on planning, building, and problem-solving experiences, and allows teachers to work together on developing, collaborating, and communicating the vision. This broad approach -- our STREAM of Knowledge -- develops analytic and collaborative skills that can be applied across subjects, both in and outside school, throughout students' lives, now and in their future careers.

Teachers collaborate using the tools outlined in Defined Learning, an online platform that incorporates project-based learning to offer an interdisciplinary STREAM curriculum. Funded through a generous donation from MFS Investment Management, the Defined Learning platform lets SJPIICA students work together to solve problems as teams using instructions delivered through audio, pictures, video, and hands-on activities to embrace all styles of learning.

For example, fifth-grade students at one campus had to design a shoe/sneaker (science and technology) in three different sizes keeping in mind that other age groups would wear the item (math and religion). The design had to incorporate circle, square, rectangle, and triangle shapes (engineering) and at least three colors (art). Upon completion of the project, the boys and girls shared with their peers a presentation on why they chose the size, shapes, and colors they did.

Another STREAM project, this time for third-grade students, might be about buildings and infrastructure. In this lesson, students would learn about building costs by creating a tower with unique materials like blocks, cards, or Legos (engineering), while investigating different shapes and testing the strength of the structures (math and technology). They could create a city skyline in a drawing using pencils, paints, or digital devices (art). In science class, students might conduct an experiment to determine which type of building materials are most resistant to hurricanes or earthquakes, which facilitates empathy (religion) as all parts of the country (and the world) are susceptible to different natural disasters.

At the end of the school year, SJPIICA hopes to host an Academy-wide STREAM event to showcase the various projects each grade has produced. Our goal is for the range of completed STREAM lessons to show that students developed academic, social, and emotional learning skills and displayed social awareness.



MARY TIERNAN (ADVANCEMENT@SJP2CA.ORG) IS CHIEF DEVELOPMENT OFFICER AT ST. JOHN PAUL II CATHOLIC ACADEMY (SJPIICA), WHERE STUDENTS ARE KNOWN, LOVED, AND CALLED TO EXCELLENCE. LOCATED IN DORCHESTER, THE ACADEMY PROVIDES A RIGOROUS EDUCATION TO ITS STUDENT POPULATION OF 1,050 (AGE 2.9 THROUGH GRADE EIGHT) ACROSS THREE CAMPUSES: COLUMBIA, LOWER MILLS, AND NEPONSET. LEARN MORE AT SJP2CA.ORG.