From infancy to high school -- life-long learning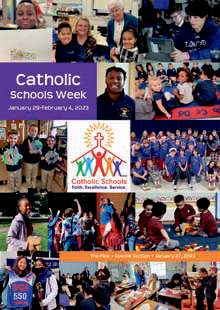 As the only parish school that offers an infant and toddler early learning center, a PreK-5 elementary school, a Middle School, a Bridge Program, and a High School, St. Agnes School/Arlington Catholic High School fosters students' intellectual, spiritual, and social journey from eight weeks to 18 years old. "Our ultimate goal is to provide a consistent, comprehensive Catholic educational experience within a strong parish community for children from the very beginning through grade 12," said Father Marc Bishop, pastor and head of school. "These young children are growing up with us here on Medford Street; spiritually, intellectually, physically, and socially. From the moment they arrive, they know they are loved, valued, and safe."

Someone experiencing this journey firsthand as both an educator and a parent is Amy Savoy, director of the Early Learning Center and mother of three. "For a mother it's so reassuring to know they're being nourished in all aspects of their growth: academically, emotionally, and spiritually," Savoy says in regards to her three children, who are in kindergarten, sixth, and seventh grade at St. Agnes. In addition to her more than two decades of experience in early childhood education as a daycare owner and lead preschool teacher, this firsthand experience as a parent helps inform Savoy's approach in running the ELC. "The key to a successful early learning center is having the parents' trust and knowledge that we support them," explains Savoy. For that reason, caring for, nurturing, and teaching the young children enrolled at the ELC are done in partnership between staff and parents. Amy and her staff develop personal relationships with parents and keep in contact throughout the day in order to provide reassurance that they are properly responding to the children's needs. "This may be the first time these parents have left their children in someone else's care. They need to know their children are being loved and cared for."

An individualized approach to learning is something that extends beyond the Early Learning Center. It is at the core of St. Agnes Elementary and Middle School, and Arlington Catholic High School. Nicole Luongo, director of the Middle School, emphasizes the importance of providing for the individual needs of each student and its role in the school's success. "I think what makes our middle school stand out is our responsiveness to our students," says Luongo. "We listen closely to our students and families and make changes as needed to support students' academic, social, and emotional growth." High school senior Thomas Driscoll, confirmed this contrast between his prior experience at public school with his current experience at Arlington Catholic. "You get much more individualized attention here," Driscoll explained. "You know all of your teachers on a personal level." Driscoll said he also appreciated that the smaller student population, which allows you to "get to know everyone," fosters a close-knit community amongst his peers.

One result of this open communication was the formation of the Bridge Academy -- currently in its second year -- in the wake of the pandemic. "The Bridge Academy grew from conversations our administrators had with families," explains John Graceffa, principal. "We learned of an increased need for some students who fell behind during the pandemic. A need for more time to better prepare academically for high school, mature, and grow their social-emotional skills." Graceffa says this unique program serves the needs of these students by offering a curriculum that expounds on their eighth-grade coursework and provides an additional year of growth to bridge that gap. Tyler Valente, a student in the inaugural class of the Bridge Academy, stated that his Bridge year was an enjoyable and beneficial experience. He was thankful that the program not only provided him with another year to prepare for high school, but he got to participate in an additional year of sports.

In addition to being a close-knit community, the entire St. Agnes/Arlington Catholic student body represents a diverse and vibrant group of young people who value their own education and personal growth. With a wide variety of clubs and activities for all grade levels at the Elementary, Middle, and High School, and eligibility to play sports at Arlington Catholic beginning in seventh grade, approximately 90 percent of students participate in at least one sport, club, or activity. With a student body that is so highly engaged in their academic, spiritual, and social journeys, both St. Agnes and Arlington Catholic form a dynamic, ever-growing environment where students can thrive.

Learn more about growing up in the St. Agnes/Arlington Catholic community at www.achssas.org.



ALECIA CONNOLLY IS THE MARKETING AND COMMUNICATIONS SPECIALIST AT ST. AGNES SCHOOL/ARLINGTON CATHOLIC HIGH SCHOOL (ACONNOLLY@ACHS.NET OR 781-643-6718).