The Pilot comes to Kindle, iPhone
---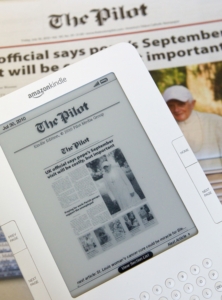 The July 30 edition of The Pilot is pictured on an Amazon Kindle e-reader. This week, The Pilot announced that it is the first Catholic newspaper to publish a Kindle edition and is releasing applications for other mobile devices. Pilot photo/ Gregory L. Tracy
BRAINTREE -- Though it has its roots in the 19th century, this week The Pilot took another step in firmly planting itself in the 21st century.

Beginning with its Aug. 6 edition, The Pilot will be available on Amazon Kindle and through its new Apple iPhone application. The Pilot also plans to unveil a mobile optimized version of its web site for BlackBerry and Android smart phones as well as an Apple iPad-specific application later this month.

"I have always felt that it is important for the Church to bring its message to people wherever they get their information," said Cardinal Seán P. O'Malley. "Today, particularly among young people, that is increasingly on mobile devices. As a Kindle user myself, I look forward to having The Pilot delivered there every week."

Though other Catholic commentators and news outlets have blog content available through Kindle, The Pilot is the first Catholic newspaper to publish an "e-edition" on the electronic reader.

"We are trying to enter in all these avenues of distribution, because that is where the people are," said Pilot editor Antonio Enrique.

The Pilot is available on Kindle for $1.49 per month. Single issues can be purchased for $0.75.