Dinner raises $1 million for Clergy Funds
---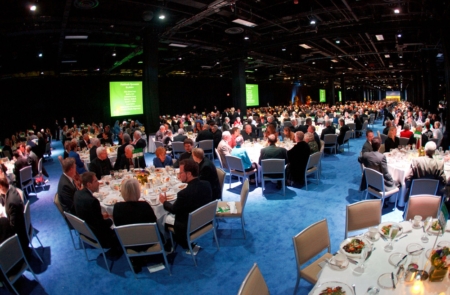 Nearly 1,500 attendees fill the caverous Commonwealth Hall at Boston's Seaport World Trade Center for the 2nd annual Priest Appreciation Dinner Sept. 16. The event raised over $1 million dollars for the Clergy Funds, which provide for the retirement, medical and financial needs of priests. Pilot photo/Gregory L. Tracy
BOSTON -- Nearly 1,500 people packed an expansive ballroom at Boston's Seaport World Trade Center Sept. 16 for a gala dinner to benefit the Archdiocese of Boston's clergy benefits fund, and pay tribute to the priests whose selfless sacrifices have touched the lives of faithful Catholics.

The second annual Priest Appreciation Dinner grossed $1 million for the archdiocese's Clergy Benefits Trust, according to Clergy Funds Advisor Joe D'Arrigo. Final tallies on the amount raised for the fund were unavailable at press time since dinner expenses still needed to be accounted.

The Clergy Benefits Trust funds retirement living and health expenses for the archdiocese's priests.

"A million-dollar dinner in Boston in today's economy is significant," he said.

Speakers for the evening paid tribute to the services of the archdiocese's priests and the role they play in the daily and sacramental lives of Catholics.

The evening's keynote speaker was Cardinal Seán P. O'Malley, and remarks were also given by event co-chair and HP Hood chairman and CEO John Kaneb, City Year Foundations Manager Courtney Wahle, and event co-chair and Campaign for Catholic Schools President Kathleen Driscoll.

Cardinal O'Malley discussed the importance of priests to the sacramental life of Catholics, saying Catholics cannot receive the Eucharist without priests.