Ste. Jeanne d'Arc named one of nation's top performing schools
---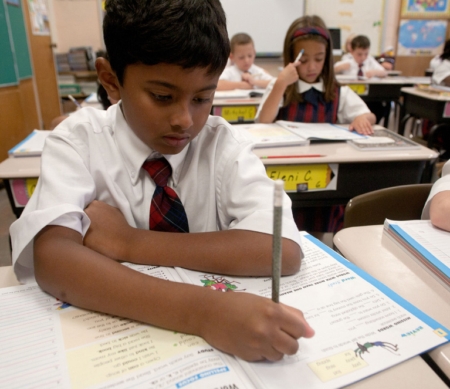 Ritesh Alla, a second grader at Ste. Jeanne d'Arc School in Lowell, works on a language arts assignment. The school was recently recognized as a Blue Ribbon School by the U.S. Department of Education. Pilot photo/Jim Lockwood
LOWELL -- Ste. Jeanne d'Arc School has been recognized by the federal Department of Education as one of the top-performing schools in the nation.

The Lowell school was recently named as a Blue Ribbon School by the U.S. Department of Education. Ste. Jeanne d'Arc is one of eight schools in Massachusetts, and the only Catholic school, to receive this honor. Nationally, 304 schools, 50 of which were private, received Blue Ribbon status.

The Department of Education describes the program as one that "honors public and private elementary, middle, and high schools that are either high performing or have improved student achievement to high levels, especially among disadvantaged students."

Non-public schools are nominated for the award by Council for American Private Education.

"These Blue Ribbon Schools have shown that all children can learn with appropriate supports," said U. S. Secretary of Education Arne Duncan. "They are producing outstanding results for their students. Some have shown dramatic improvements in places where students are overcoming the challenges of poverty, and others serve as examples of consistent excellence that can be a resource for other schools. They are places where improved teaching and learning benefits every student, and where students are challenged to meet high expectations with the active support of teachers, parents and the community."