Ste. Jeanne d'Arc named one of nation's top performing schools
---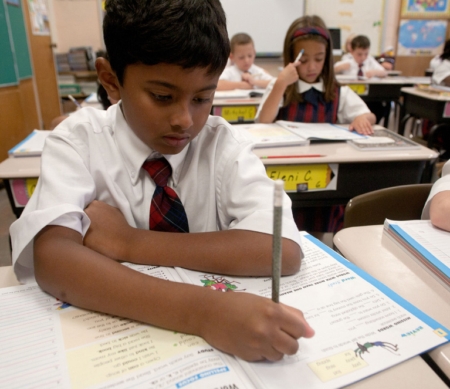 Ritesh Alla, a second grader at Ste. Jeanne d'Arc School in Lowell, works on a language arts assignment. The school was recently recognized as a Blue Ribbon School by the U.S. Department of Education. Pilot photo/Jim Lockwood
LOWELL -- Ste. Jeanne d'Arc School has been recognized by the federal Department of Education as one of the top-performing schools in the nation.
The Lowell school was recently named as a Blue Ribbon School by the U.S. Department of Education. Ste. Jeanne d'Arc is one of eight schools in Massachusetts, and the only Catholic school, to receive this honor. Nationally, 304 schools, 50 of which were private, received Blue Ribbon status.
The Department of Education describes the program as one that "honors public and private elementary, middle, and high schools that are either high performing or have improved student achievement to high levels, especially among disadvantaged students."
Non-public schools are nominated for the award by Council for American Private Education.
"These Blue Ribbon Schools have shown that all children can learn with appropriate supports," said U. S. Secretary of Education Arne Duncan. "They are producing outstanding results for their students. Some have shown dramatic improvements in places where students are overcoming the challenges of poverty, and others serve as examples of consistent excellence that can be a resource for other schools. They are places where improved teaching and learning benefits every student, and where students are challenged to meet high expectations with the active support of teachers, parents and the community."
Bill McKersie, associate Superintendent of Schools for the Archdiocese of Boston, said the Blue Ribbon recognition is indicative of a superior educational program in a state that consistently boasts strong schools.
"Massachusetts is seen as having one of the best sets of schools -- public, independent or parochial -- in the country," he said. "It's a gigantic award and statement on how excellent St. Jeanne d'Arc is from the standpoint of its academic program."
Ste. Jeanne d'Arc Principal Sister Prescille Malo, SCO, credited her students and staff for earning the Blue Ribbon honor.
"It is an honor to be recognized for the quality of education that is a daily experience at SJA. The applause goes to the entire staff which is dedicated to academic excellence, students who live the mission, and all who support the vision of this community of learners," said Sister Prescille.
Blue Ribbon-eligible schools are among their state's top performing schools when measured by standardized tests in reading and mathematics or score among the highest in the country, according to the U.S. Department of Education website.
According to Ste. Jeanne d'Arc's award application, students scored in the 86th percentile in both reading and math, which exceeded the cutoff score for both subjects in Grade 8.
An additional criterion, according to the Blue Ribbon application, is the availability of a foreign language program for students in junior high school and above.
At Ste. Jeanne d'Arc, all students in Grades K through 8 study French.
"Historically we're a French school," said assistant principal Monique Letendre. "We've maintained uninterrupted the French program since our founding in 1910."
In their application, school officials had to provide data on student and faculty demographics, enrollment trends and a summary of curriculum and extracurricular offerings.
Page 1 of 2