Cardinal celebrates Chrism Mass, recognizes priests for service
---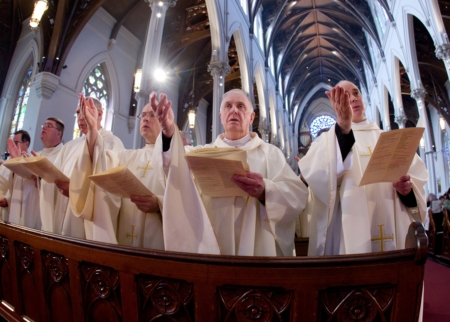 Priests join Cardinal O'Malley in concelebrating the Chrism Mass. Pilot photo/Gregory L. Tracy
SOUTH END -- The priests of the Archdiocese of Boston kept the tradition of Holy Week on Tuesday as they gathered to celebrate fraternal unity at the annual Chrism Mass.

"The Chrism Mass is very inspiring because it manifests the unity of the priests with the bishop," said Father Jason W. Worthley, parochial vicar of St. Catherine of Genoa Parish and St. Ann Parish in Somerville.

Priests, seminarians, religious and laity from all over the archdiocese joined Cardinal Seán P. O'Malley and his auxiliary bishops on April 3 at the Cathedral of the Holy Cross.

"Sometimes when we are in our ministry we might feel like we are alone going here and going there, but every year we are renewed realizing that we are all on the same team, united with Cardinal Seán and with our Holy Father Pope Benedict. That is very inspiring," Father Worthley said.

Greek Orthodox Metropolitan Methodios of Boston attended the Mass as a guest of the cardinal.

The cardinal said he extended the invitation to continue a tradition the two observe each year.

"Each year he comes to visit our community on the Chrism Mass, and I will go to his cathedral for their Easter, which this year will be one week after ours, and greet his people in the name of the Catholic community to further a sense of solidarity and fraternity with the members of the Greek Orthodox Church," Cardinal O'Malley said.