'Co-workers' conference reinforces pastoral leadership
---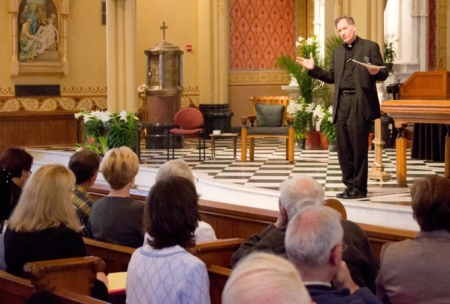 Father Michael Keating delivers his keynote address "Excellence in Pastoral Leadership: The Nature of True Leadership" at the fifth annual Co-Workers in the Vineyard Conference April 20 at Our Lady Help of Christians Church in Newton. Pilot photo/Christopher S. Pineo
NEWTON -- Lay pastoral workers and clergy of the Archdiocese of Boston dedicated a day to strengthening leadership in faith communities and addressing vital challenges facing the Church locally.

The Theological Institute for the New Evangelization's (TINE) Masters of Arts in Ministry (MAM) program of St. John's Seminary hosted their fifth annual Co-Workers in the Vineyard Conference under the theme, "Excellence in Pastoral Leadership" for 175 participants on April 20 at Our Lady Help of Christians Church in Newton.

TINE vice-president and MAM director Aldona Lingertat said the conference addressed some issues of immediate concern in the archdiocese and the state of Massachusetts. This was done in the spirit of the U.S. Conference of Catholic Bishops' document entitled "Co-Workers in the Vineyard of the Lord," which discusses collaboration of the clergy and laity in parish life.

The conference focused on local issues with guest-talks regarding pastoral planning and proposals to legalize physician assisted suicide in the state, Lingertat said.

"We think it is important to make sure that the theory is applied," Lingertat said.

"At this gathering you want to make sure that the theoretical, the inspirational, starts getting integrated into the actual issues that are important in the parishes and in our pastoral life," she said.

Cardinal Seán P. O'Malley opened the 2012 conference by celebrating Mass for the group.