The desire that overcomes fear
---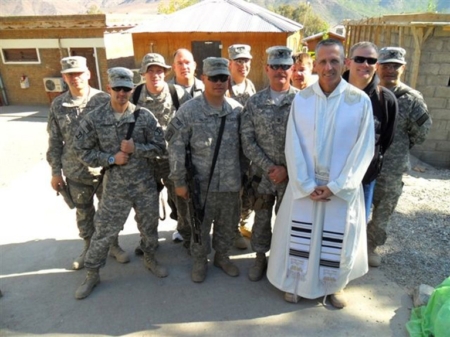 Boston priest Father Paul K. Hurley is pictured with American military personnel. Father Hurley has ministered to U.S. troops for 12 years, both here and abroad. Pilot photo courtesy/Father Paul K. Hurley
Twelve years of service as a Catholic chaplain in the Army have given me a deep respect for the men and women serving in the military. Though most soldiers deployed in combat zones are young (the majority under the age of 30), they are willing to lay down their lives for the sake of their friends and for their country.

On one of my recent combat deployments, I was celebrating Mass in as many locations as possible to bring the sacraments to troops. Due to rugged terrain, most movements were done by helicopter. Though helicopter travel is the safest means of transportation, it often means an extended stay at a base until an aircraft for transport becomes available, or until combat operations permit travel.

I'll never forget one such time when I was stranded for several days at a small and remote Forward Operating Base (FOB) awaiting Army helicopter transport. An unexpected convoy arrived at the FOB with a very special mission. The soldiers explained that they had come from an even smaller and more remote FOB. Due to the location and isolation of their base, no Catholic priest had ever been able to reach them. After learning that a Catholic priest was at a base nearby, these soldiers had risked their lives to bring me to their location to celebrate Mass.