Ignatian Volunteer Corps brings spiritual dimension to service
---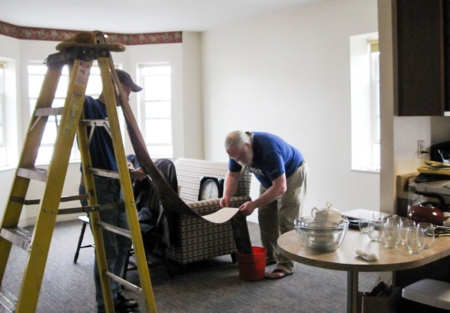 A group of retired employees from the State Street Corporation work with the Ignatian Volunteer Corps to furnish an apartment for homeless elderly May 22. Pilot photo/Courtesy Cristina Nelson
DORCHESTER -- There are many organizations that provide people with opportunities to use their lifetime of experience to give back to others, but the Ignatian Volunteer Corps provides something many others do not -- the opportunity for spiritual growth.

Jesuit Fathers Jim Conroy and Charles Costello created the IVC in 1995 to allow retired or mature men and women the chance to use their experience in ministry. The priests combined the principle of direct service to the poor with a process of faith-based reflection rooted in the Spiritual Exercises of St. Ignatius.

Before joining the IVC, Cristina Nelson used her doctorate in history to teach as an adjunct professor for more than 12 years. She said she began to feel "burnt out" with that line of work and took time off to make a transition away from the frontlines of education.

"I needed a break. The Ignatian Volunteer Corps was suggested to me as a way to do good work and also as a spiritual practice, which is important to me," she said.

Nelson interviewed with five different organizations before she found a place to serve with New England IVC.

"I interviewed at each one of them, and they interviewed me," she said.

She found a fit with a Boston organization called Hearth, which provides housing for the elderly homeless.