Ignatian Volunteer Corps brings spiritual dimension to service
---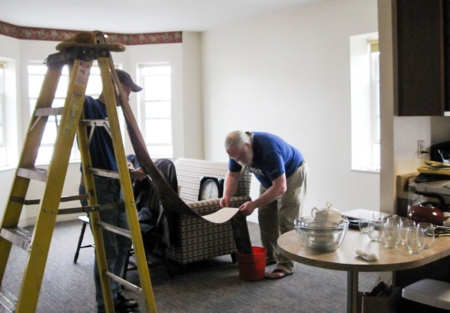 A group of retired employees from the State Street Corporation work with the Ignatian Volunteer Corps to furnish an apartment for homeless elderly May 22. Pilot photo/Courtesy Cristina Nelson
DORCHESTER -- There are many organizations that provide people with opportunities to use their lifetime of experience to give back to others, but the Ignatian Volunteer Corps provides something many others do not -- the opportunity for spiritual growth.
Jesuit Fathers Jim Conroy and Charles Costello created the IVC in 1995 to allow retired or mature men and women the chance to use their experience in ministry. The priests combined the principle of direct service to the poor with a process of faith-based reflection rooted in the Spiritual Exercises of St. Ignatius.
Before joining the IVC, Cristina Nelson used her doctorate in history to teach as an adjunct professor for more than 12 years. She said she began to feel "burnt out" with that line of work and took time off to make a transition away from the frontlines of education.
"I needed a break. The Ignatian Volunteer Corps was suggested to me as a way to do good work and also as a spiritual practice, which is important to me," she said.
Nelson interviewed with five different organizations before she found a place to serve with New England IVC.
"I interviewed at each one of them, and they interviewed me," she said.
She found a fit with a Boston organization called Hearth, which provides housing for the elderly homeless.
"Hearth stood out to me because of its mission to help the most vulnerable population. All of the other sites did also help vulnerable populations, but this really resonated with me," she said.
She said that created two-way sense of familiarity between her and the organization.
Nelson soon took up her work fundraising for Hearth's Adopt-a-Room campaign for their new Olmstead Green residence in Dorchester.
In her role with Hearth, Nelson coordinates with donors to furnish each of the rooms at the facility with furniture, decorations, and some basic necessities.
Nelson said the goal is to create individual living spaces that can become a home for residents.
When three weeks ago Nelson was showing potential donors from St. Ignatius of Loyola in Chestnut Hill the rooms, one of Hearth's clients joined the group.
"He had just signed his lease and wanted to take a look at the building," she said.
Nelson welcomed him to the tour, but while they were looking at one of the rooms furnished by the Hearth board of directors, the man began crying.
"I asked him if he was OK," she said.
The man described a list of losses in his life that brought him to homelessness. An immigrant, with no job and no family, he had nowhere to go when his health failed him.
The sight of the furnishings and the care extended to him had moved him to tears.
"The last thing he said to me was 'God bless America,'" she said.
Nelson will complete her time with the IVC in June, but said the experience has enriched her life.
"I have enjoyed the Adopt-a-Room program immensely. I will be real sad to leave, to tell you the truth," she said.
Nelson plans to pursue an administrative position in higher education, as she returns to the working world.
The New England IVC helps the poor while providing a meaningful spiritual experience for volunteers, as part of its core mission.
"The mission is basically to get men and women with gifts, talents, skills and life experience to put those at the service of people who are materially poor or marginalized in society," regional director Dave Hinchen said.
Hinchen said the growth in Catholic values and reflection on their service are an important part of the volunteer experience.
"The needs of the poor bring them back to reflection on their own faith. They do that together in a community kind of way so that there is also a building of faith community going on at the same time," Hinchen said.
IVC collaborates with other organizations in pursuit of opportunities for retired and mature volunteers to serve, so the regional director works on a person-to-person basis to find the right fit for each volunteer.
Page 1 of 2