Pembroke Opus Dei center ready 'to change the world'
---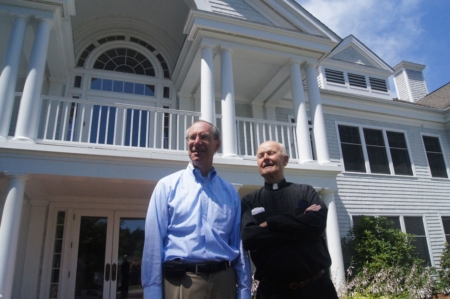 Opus Dei Chestnut Hill Center director Joe Billmeier and Father Dick Rieman pose for a photo outside of the main entrance to the Lockwood Building at Arnold Hall Center in Pembroke. Pilot photo/Christopher S. Pineo
PEMBROKE -- While Hollywood pushes ups and downs in their narrative on the subject of Opus Dei, The Work continues undaunted at Arnold Hall in Pembroke.
At the out-of-the-way center, Opus Dei in Boston provides Catholic formation and programs to bolster what is sometimes called The Work begun by the Spaniard St. Josemaria Escriva in 1928.
One supernumerary -- a married member of Opus Dei -- said negative portrayal in film dealt the organization more of a boost than a blow.
"Hollywood did us a big favor frankly," said Peter Buckley, 50, an investment advisor whose entire family of six children and his wife participate in Opus Dei.
He said the media attention caused some individuals to explore the organization for themselves.
At the invitation of Joe Billmeier, a local Opus Dei leader, The Pilot took a tour of the facilities and got an inside look at the workings of Opus Dei on a local level.
Programs at the house prepare newcomers of all ages to sanctify their work through day-to-day aspects of their lives.
Supernumeraries, numeraries, associates and cooperators all contribute differently to their own work with Opus Dei. Numeraries are unmarried members who remain celibate and live at Opus Dei centers, supernumeraries are married members who live with their families at home, and associates are celibate members who do not live at a center. Cooperators are not actually members but support the organization through alms, prayer and volunteer work.
Most members of Opus Dei are supernumeraries, as were most members of the group speaking with The Pilot at Arnold Hall.
In his homilies and teachings, founder St. Josemaria Escriva frequently pointed to the idea that one's daily routine, home life, and work life could be sanctified before Christ to focus each moment on the contemplation of salvation in the Lord.
While adults receive formation and education at the center, youth and young adults receive robust preparation for various changes to their lives as they enter new phases.
At a program called Days of Recollection meetings adults gather with a priest who delivers two meditations, followed by a talk from an Opus Dei member. Each month the meeting covers a different topic in an open atmosphere welcoming all who wish to attend.
"These are what we call 'means of formation.' You can invite friends. You can invite neighbors. You can invite people that are not even Catholic," Supernumerary and wife of Peter Buckley Emilia Buckley, 47, said.
Supernumeraries also attend one-week workshops each year, which include a class delivered by a priest on a faith related topic.
Topics for the series of workshops coming up in September include "Knowledge is Transformative: Understanding the Social Doctrine of the Church," "Confident in the Truth: Promoting Religious Freedom from the School Board to the White House," and "Ordinary Women, Extraordinary Feats: Historical Examples of Female Accomplishment."
"It is offered, we are encouraged to do it because it is for our own benefit, but one of the great things about Opus Dei is that the strongest word that you will hear will be a 'please.' So, nobody is forced to do anything," Emilia said.
Her husband described the experience of the workshops for men with different sentiment.
"I don't know what happens at the women's, but I wouldn't define what the workshop is as intense -- for us anyway. It is a lot of fun, but we do study," Peter said.
"It's a great opportunity for fellowship, companionship and getting together," for the men who live in separate towns and out of state, he said.
The 100-acre facility has classrooms, dining facilities, a shrine dedicated to Mary, walking paths, a lake, and a chapel. Non-members can also do retreats at Arnold Hall.
Opus Dei members said formation programs, like those offered at Arnold Hall, help adults grow in their Catholic faith because the teachings come directly from the catechism and Catholic teaching.
"What the Church teaches is what Opus Dei teaches. There are no separate content to the doctrines of the faith within Opus Dei than there are from the Church," said Tim Casey, 56, a supernumerary who attends Mass at St. Mary's in Franklin.
Emilia Buckley has three daughters who participate in programs at Arnold Hall.
"They come here and they learn other activities that would be useful for them in the future," she said.
Her daughters described their participation in the programs at Arnold Hall.
Her youngest daughter 12-year-old Isabel Buckley participates in the Friday Night club, where she learns etiquette and meal preparation, while interacting with other girls her age.
"The part I enjoy the most is cooking the dinner, because you learn how to cook different kinds of meals. It is really fun," Isabel said.
She said one of the activities she enjoyed taught her proper placement for setting a table. She said she has taken the skill home with her.
"I do it a lot now at home," she said.
Her sister Maria Buckley, 17, laughed with her younger sister as she related her experience.
Maria is a senior at Montrose School in Medfield. She works as a counselor at one of the hall's programs called Pocasset Prep. Before freshmen year, the program helps young people making the transition into high school through experiencing spiritual, cultural, academic and recreational activities.
"It's not camp camp in the sense where you just play sports and do crafts and have a bonfire and stuff. It's a little bit more," Maria said.
She said the program really takes a focus on preparing young people for the whole experience of beginning high school.
"OK, we are going into high school. How can we prepare for the academics and studying? How can we prepare for a different environment, and the more challenging topics and questions that you will be faced with?" Maria said.
Past activities run for the prep program included trips to Martha's Vineyard and walking the Boston Freedom Trail. Prior lessons included the Christian virtues and social teachings of the Church.
Page 1 of 2