Healthcare experts address opioid epidemic at Regis lecture
---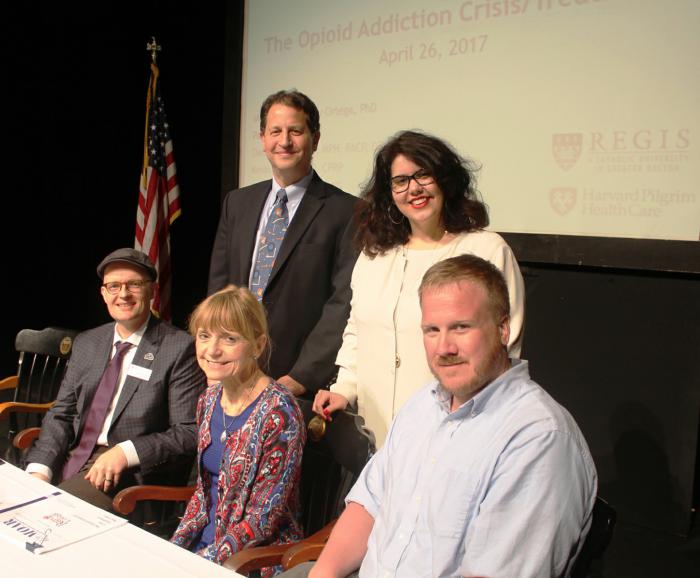 Panelists Kevin T. Henze, Maryanne Frangules, Jared Owen, (standing) Daniel P. Alford and moderator Shelby Ortega are pictured at the Regis President's Lecture on the opioid crisis. Pilot photo/courtesy Regis College
WESTON -- Regis, a Catholic university in Weston, hosted a forum on the deadly opioid epidemic April 26 as part of its Regis President's Lecture Series on Health. The discussion drew leading experts from around Massachusetts and nearly 300 people attended including nurses, social workers, mental health professionals, students and members of the public.

Regis Counseling Psychology Program director Shelby Ortega, PhD, moderated the panel of doctors, a licensed counselor and a man in recovery. Jared Owen, communications coordinator at Massachusetts Organization for Addiction Recovery (MOAR), shared his personal story of addiction and rehabilitation.

"It's a complex illness that is mental, physical and spiritual," said Owen.

The "disease of social isolation" has a stigma that is dangerous and keeps people out of treatment, according to Owen. Fear of what people would think is why he did not seek help sooner. To him, facing treatment was like facing death. Until one day when three police officers, whom he refers to as his guardian angels, rescued him. He described his physical withdrawal as horrendous. Owen believes that part of a successful recovery is to re-establish social connections with positive people and seek treatment for emotional problems.