Wonderful to be together again at St. John School!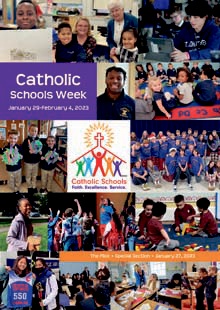 Nestled in the heart of Boston's historic North End, St. John School has educated children since 1895. Welcoming students in pre-kindergarten three through grade eight from over 35 zip codes, we instill Catholic values while focusing on faith and academic excellence.

In September 2020 during the pandemic, St. John School remained open. Every child continued to learn either in-person or through remote learning. We were able to remain open without closure throughout the past two years, while also continuing to focus on students' academic and spiritual growth because of the exceptional hard work of our entire community. Through diligent planning and execution, we kept our school healthy, safe, and open. To be able to remain open, our ages did not mix, our families did not come into the building, and we did not gather as a community.

This past Christmas Season, it was such a joy to bring everyone back together again as our greater St. John School Community. It was wonderful to celebrate through several school-wide events:

Our Advent Angel initiative matched older students with younger students to spend time together, share snack times, and to create a multi-week nativity craft. Our very own art teacher, the amazing Mr. Barber, drew our nativity scene that St. John School students added to each week of Advent. At the conclusion of this initiative, our older Advent Angels accompanied our younger Advent Angels, and sat together at our whole school Christmas Mass at our beautiful parish church, St. Leonard Church. (St. Leonard Parish is celebrating 150 years this year, www.saintleonardchurchboston.org/150thcelebration.) It was wonderful to see friendships develop and flourish across grade levels through this initiative.

Students from all grade levels lovingly created over 500 Christmas cards that were delivered by our first, seventh, and eighth graders to the St. Anthony's Franciscan Food Center. The cards were delivered with fresh produce food donations harvested right from our own in-house hydroponic tower gardens. Our students who delivered the fresh produce walked past Paul Revere's House, The Rose Kennedy Greenway, The Haymarket, Faneuil Hall, Quincy Market, City Hall, the Old State House, and the Old South Meeting House -- the city of Boston is literally right outside our front door. It was wonderful to see our students exhibit such kindness and compassion while experiencing the festive atmosphere of downtown Boston at Christmastime.

Every St. John School student joyfully prepared for and participated in our first Christmas Concert since 2019. It was a pleasure to gather with our friends and families at the stunning Sacred Heart Church in North Square for this event. The concert concluded with all kindergarten through grade eight students performing "Silent Night." It was wonderful to see our students perform confidently and enjoy being all together.

Our afterschool drama and dance classes had been rehearsing and preparing for their Christmas shows since September. They were thrilled to set up and perform for parents and friends on a December Thursday evening, and for the entire school during the next school day. It was wonderful to see the enthusiasm our students exhibit while performing.

Our community partner, the St. Leonard Choral Society and Orchestra invited our St. John School students to perform in their Concerto di Natale, an Italian-American Christmas Concert. It was also their first concert since December 2019. It was wonderful to participate in such a stunning concert honoring our neighborhood's Italian heritage.



REBECCA GRIFFIN IS DIRECTOR OF ADVANCEMENT AND ENROLLMENT (BGRIFFIN@SJSNE.COM OR 617-227-3143) AT ST. JOHN SCHOOL IN BOSTON, MASSACHUSETTS, A PRE-KINDERGARTEN THREE THROUGH GRADE EIGHT SCHOOL SERVING 200 STUDENTS FROM OVER 35 ZIP CODES.